Foxfire
(2013)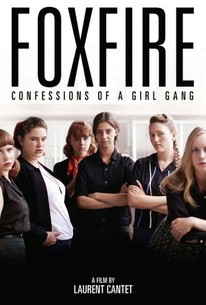 Movie Info
Laurent Cantet (The Class) crosses the Atlantic for his account of a girl gang in 1950s America. Re-appropriating a traditionally male genre, the film's female perspective highlights the inequality between the sexes during the period, whilst also showing the girls to be worthy adversaries to their male counterparts. With its lush recreation of the era, Cantet's film continues in the vein of such films as Rebel Without a Cause and The Outsiders.
Critic Reviews for Foxfire
Audience Reviews for Foxfire
This French-British-Canadian drama written and directed by Laurent Cantet, is the second film adaptation of the novel by Joyce Carol Oates, Foxfire: Confessions of a Girl Gang (1993), after the Annette Haywood-Carter's version in 1996. The cast included very talented young actors, Katie Coseni as Madeleine (Maddy, Wirtz), Raven Adamson as Margaret (Legs, Sadovsky), Madeleine Bisson as Rita O'Hagan, Claire Mazerolle as Goldie, Paige Moyles as Lana, Rachael Nyhuus as Violet Kahn, Lindsay Rolland-Mills as VV... and all of them were very refreshing to watch. [img]http://antoniogenna.com/wp-content/uploads/2013/08/foxfire.jpg[/img] The 143 minutes long feminist story is happening in the United States in 1955, and five girls from the local school decide to organize themselves in a gang in order to fight against the treatment of females and the influence of men over women. The length of the story could be shorter for at least 15 minutes without losing much of it. I liked the recreation of the era which was amazingly successful. On the other hand the feel of the movie was that is, as I already mentioned, overlong and sometimes relies on the force rather than reasoning for solution of the problems which becomes boring because simply repeats itself, over and over! If you are ready for a different "growing up" story of not so common teenagers which becomes stale towards the end, check it out, if you must!
Laurent Cantet's follow up to his Palm D'or winning 'The Class' also making his english language debut, Adapted from Joyce Carol Oates novel; Foxfire follows the exploits of an outlaw girl gang in 1950 America. The non-stop deftly moving pace is what make this filmaker's film(s) such an engrossing and refreshing nature. All major character's play their unique and individual parts within the film. The film also carries a gritty and revolutionary subtext among its strong feminest themes. All the character motivations drive the plot, flawlessly casted with little to no star power. Cantet proves he can make authanticity stand out while never making audiences bored. Recomended!!!
Luke Eberhardt
Super Reviewer
½
In fifties upstate New York, Legs (Adamson) leads a street gang of girls from troubled backgrounds. The girls see themselves as feminists and evry man as a potential enemy. Maddy (Coseni), a wannabe writer, chronicles the gang's exploits on a battered typewriter, drawn to the charismatic Legs. After serving a stint in a juvenile detention center, Legs pays the first three months on a rundown house and moves the rest of the gang in to the premises, forming a radical commune. To fund their lifestyle, the girls seduce and rob men of their wallets. Legs, however, has bigger ideas and begins to formulate a plan to kidnap a wealthy businessman. Joyce Carol Oates' 1993 novel has previously been adapted in a 1996 version, notable only for providing an early leading role for Angelina Jolie. It was a trashy affair that exploited the lesbian aspect of the story. Cantet's version, his first movie made in the English language and his follow-up to the Palmes D'Or winning 'The Class', is a far more subtle telling, though another way to describe it would be "dull". Running at a yawn-inducing two hours and 20 minutes, 'Foxfire' resembles a TV mini-series of the type that were always shown in two-parts over a Sunday and Monday evening back in the eighties and early nineties. Apart from the several Ken Loach-esque discussions of radical left-wing politics, Cantet's film wouldn't be out of place on the Lifetime channel. There's no nudity, little in the way of coarse language and the lesbian aspect is only hinted at. Cantet shoots his scenes in a dull, TV fashion. Cantet makes no judgement call on the actions of his despicable protagonists so the result is a cold, objective look at horrible people committing vile acts. Practically every male character is portrayed as a money-obsessed would-be rapist but the girls themselves are so unlikable (save for Maddy, a possible audience surrogate who Cantet seems to have little interest in) that even the most radical of feminists would find it hard to get with their cause. The film's bland script and direction are slightly enlivened by the performances of the largely amateur cast. The gang members are all great, resembling real teenage girls rather than Disney Club rejects, and Adamson manages to inject some charisma into a repulsive character. Her unconventional looks may work against her in the image obsessed world of modern American cinema, but she's an actress of great promise.
The Movie Waffler
Super Reviewer
Foxfire Quotes
There are no approved quotes yet for this movie.