Frailty
(2002)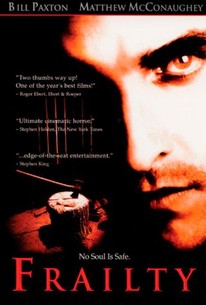 Movie Info
Actor Bill Paxton made his directorial debut with Frailty. The bulk of the story is told through flashbacks, as a mysterious man (Matthew McConaughey) tells a terrible tale to an FBI agent (Powers Boothe) investigating the "God's Hand" serial killer case. The man grew up in a small town in Texas, where he and his brother lived a bucolic life with their kindhearted widower father (Paxton). One night, the father awakens the two boys, Fenton (Matthew O'Leary) and Adam (Jeremy Sumpter), and tells them he's had a vision, and God has chosen him and his sons to help Him slay demons who walk the earth in human form. He tells the boys they can never tell anyone about this task. Before long, he comes home from work with a list of names that he claims an angel has given to him. He then begins abducting people, bringing them home, one by one, and having the boys watch while he lays his hands on them. After having proven, to his mind, that they are demons and not human, he chops them up with an axe while the boys look on. Young Adam is eager to participate, seeing his family as "kind of like superheroes," while the older Fenton is distraught, believing that his father has lost his mind. He contemplates running away, but is reluctant to leave his little brother behind. Eventually, he goes to the authorities, which results in disaster. As he tells the story, McConaughey takes Boothe out to the public rose garden near his old home, where he claims his brother, the "God's Hand" killer, buried the bodies. Paxton dramatizes the mayhem while leaving almost all of the gore offscreen, and Brent Hanley's script leaves the true motives of several characters unclear until the very end. ~ Josh Ralske, Rovi
News & Interviews for Frailty
Critic Reviews for Frailty
Audience Reviews for Frailty
½
Bill Paxton and the guy from those lincoln car commercials? What an incredible duo. Hard not to feel blessed seeing 2 titans on the industry doing what they do best
Spencer Macklin
Super Reviewer
½
A man walks into the offices of the FBI and declares that he knows the identity of a high profile serial killer, and sets about convincing the sceptical agent in charge by recounting the events of his life. Until Matthew McConaghey's recent catharsis as to the quality of the projects he becomes involved with, his career was littered with turds but this is far from the worst offender. It's a supernatural thriller in which the childhood victim of a murderous religious zealot tells of how the life of his younger brother and he were turned upside down by their father's "holy mission" which sets the scene for an intriguing story. McConaghey makes a suitably intense and enigmatic lead and his verbal sparring with disbelieving Powers Boothe works well. Unfortunately Bill Paxton's inexperience behind the lens means the pacing is long-winded rather than atmospheric and there are a few instances where the film looks plain amateurish. But the biggest problem is its reliance on the proverbial and extremely obvious "twist ending" which totally undermines what could've been a powerful statement on how blind faith could cause a good man to commit evil deeds, instead making for a hokey X-File. Still, it's far from Matthew's worst moment and is worth a look if you're looking for an off-beat thriller with a supernatural flavour.
½
[img]http://images.rottentomatoes.com/images/user/icons/icon14.gif[/img]
Directors Cat
Super Reviewer
Frailty Quotes
There are no approved quotes yet for this movie.