Frank & Jesse
(1995)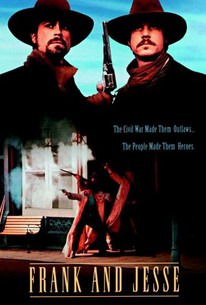 Movie Info
Rob Lowe and Bill Paxton star as Frank and Jesse James, who, after the defeat of the South in the Civil War and the pointless murder of their younger brother, seek their own brand of justice. As outlaws, they gain fame for their daring hold-ups of banks, trains, and stagecoaches -- and make sworn enemies of lawmen, who are determined to see them dead.
Critic Reviews for Frank & Jesse
Audience Reviews for Frank & Jesse
½
Another version of the outlaw duo this time headed up by big stars Paxton and Lowe as the brothers, no one else is much of a draw here as this seems more of a low budget production, possibly more of a TV movie, but sometimes films work better that way. Well not this time I'm afraid, the film is reasonable with acceptable performances and it does, at times, look quite realistic with its bare no frills look but there is a whole load of dubious fake looking gun fighting, fake looking deaths and dodgy extras acting going on in the background that kinda spoils things. The main issue is of course the historical facts, for some reason the powers that be deemed it better to change many facts around making the film completely errr wrong. Even common knowledge facts such as the man who shot Jesse James, twas Bob not Charlie!! so why does this film change it?.
Phil Hubbs
Super Reviewer
½
Frank and Jesse started with a rough exposition, with poorly staged scenes and ineffectual dialogue. As the film progressed, it got gradually better. The cast never quite lives up to its' true potential, with Rob Lowe especially being inconsistent. The tone of the movie is also inconsistent, shifting between lighthearted and melodramatic. Though it has its' moments, overall it fails as an effective version of the James gang, especially in light of its' many historical inaccuracies.
Jeffrey Meyers
Super Reviewer
Frank & Jesse Quotes
There are no approved quotes yet for this movie.