Frank and Ollie
(1997)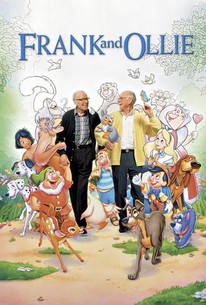 Movie Info
This documentary profiles Frank Thomas and Ollie Johnston, the two artists responsible for the Disney style of animation. The two close friends are responsible for making 23 feature during their 40 years at Disney. Films include Snow White, Bambi and Pinnochio. Together they were a perfectly complimentary pair. Frank was analytical and Ollie intuitive. It is also interesting that their personal lives closely paralleled each other.
Critic Reviews for Frank and Ollie
Audience Reviews for Frank and Ollie
½
A perceptive glimpse into the lives of two friends who helped create some of the most beloved Disney characters of all time. I fell in love with Frank and Ollie as they introspectively told stories that penetrated my heart. I was awed at the incredible talent that goes into animation and the genius that these two men brought to Disney films. The film is made complete with a sprinkling of clips from Disney movies to show examples of what they're talking about. The best part was when a man said "A verse in Proverbs says 'iron sharpens iron' and that's Frank and Ollie. They sharpen each other."
Dannielle Albert
Super Reviewer
Interesting look at early Disney studios.
Anthony Valletta
Super Reviewer
Frank and Ollie Quotes
There are no approved quotes yet for this movie.