Frankenfish
(2004)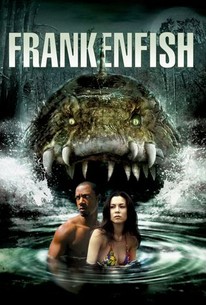 AUDIENCE SCORE
Critic Consensus: No consensus yet.
Movie Info
The Louisiana Bayou can be a dangerous place, but it's not just the gators that you need to watch out for anymore! When a series of horribly mutilated bodies are discovered along the river bank, authorities soon discover that a school of gigantic genetically engineered snakehead fish have found a new home in the previously calm waters. In addition to having a hearty appetite for human flesh, these powerful fish have been crossbred with a deadly snake -- giving them the terrifying ability to stalk their prey in and out of the water. When these man-eating mutants can stalk man in his natural environment, it's only a matter of time before humans move one step down on the food chain.
Critic Reviews for Frankenfish
All Critics (2) | Fresh (2) | Rotten (0) | DVD (2)
It's refreshing to see a horror film with a largely black cast that doesn't revolve around the ghetto and in fact doesn't really revolve around race at all.
...rife with over-the-top kill sequences and satisfyingly broad stock characters (including a crazy survivalist and a panicky jerk!)
Audience Reviews for Frankenfish
A weak SyFy flick with a weak story.
Jacob Palacio
Super Reviewer
Not to shabby for a movie about killer fish. On par with the first two Anaconda films, but it's no Tremors or Lake Placid Also it co-stars China Chow, can't believe she uses that name. You may remember her from The Big Hit with Marky Mark (sans Funky Bunch).
Ken Stachnik
Super Reviewer
½
Fairly entertaining but rather stupid B-movie about a monster fish. Steals quite a few ideas from Jaws and even Anaconda and does not even come up with one original line of dialgogue, just a bunch of BlahBlah. The B-actors, with few familiar faces, do not help much to make it more memorable either, of course, but the script doesn't give them a chance. The fish attacks are rather predictable in their shock value, and so is most of the body count. Meh.
Frankenfish Quotes
There are no approved quotes yet for this movie.