Frankenstein Meets the Spacemonster
(1965)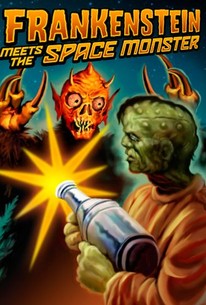 AUDIENCE SCORE
Critic Consensus: No consensus yet.
Frankenstein Meets the Spacemonster Photos
Movie Info
Despite the title, this outrageously bad Rock 'n' Roll monster movie from Puerto Rico features neither the titular monster-maker nor his lumbering creation. Instead, we're presented with an "astro-robot" named Frank, who comes to save the day when Martian forces led by Princess Markuzan (Marilyn Hanold) begin kidnapping scantily-clad Earth females from sock-hops and beach-blanket shindigs everywhere -- apparently with the intent of populating a few parties of their own. The aliens manage to french-fry most of Frank's face off, but he nevertheless manages to snap back (after a few minor adjustments) and give the invaders what-for. Also known by the more honest title Mars Invades Puerto Rico. ~ Cavett Binion, Rovi
Critic Reviews for Frankenstein Meets the Spacemonster
All Critics (3) | Fresh (0) | Rotten (3)
It competes on the same playing field with Plan 9 from Outer Space (1959) as one of those lovable worst pics ever made.
Unfortunate that the two met.
February 22, 2008 | Rating: 1/5
The worst movie ever made? Hard to say, given all the competition. Must-see viewing for bad-movie buffs? Oh, yeah.
Audience Reviews for Frankenstein Meets the Spacemonster
½
This is a really low-budget b/w movie but it is very entertaining. This movie has really aged well. Many sci-fi fans that see this movie for the first time will know what I'm talking about. I saw this 1965 movie for the first time in 2006 and loved it. I guess this one fits into the category "so bad it's great." But I consider this a damn good effort, especially considering the budget. The movie is tons of laughs. The alien invaders have an Uncle Fester-looking adviser to a hot-looking queen, who looks kind of like Barbara Steele. They come invading Earth and run into a cyborg ("Frank") built by the good old USA to explore space. This movie even has a helicopter air assault in vintage transport choppers! AWESOME! They had to send the Army to help the cyborg defeat the bat-people aliens and their weapon of last resort - a fanged monster that the aliens themselves can barely control!!!!! This movie has EVERYTHING and any fan of classic sci-fi and 60's bikini party horror should really love it. 3 1/2 stars 12-28-13
Bruce Bruce
Super Reviewer
Could have been made by Ed Wood.
Anthony Valletta
Super Reviewer
Frankenstein Meets the Spacemonster Quotes
There are no approved quotes yet for this movie.