Frankenweenie
(1992)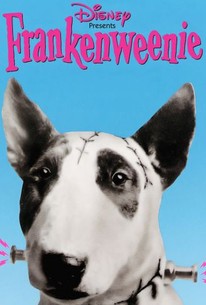 AUDIENCE SCORE
Critic Consensus: No consensus yet.
Movie Info
In this black-and-white short, novice director Tim Burton tells the story of Frankenstein's monster in suburbia as a children's fable about tolerance. Loving parents Ben (Daniel Stern) and Susan Frankenstein (Shelley Duvall) encourage their son Victor's (Barret Oliver) home movies, starring their energetic bull terrier, Sparky. Following a terrible car accident, Sparky is dead and Victor is inconsolable. After an experiment with a frog in his science class, Victor gets the idea to make an electrical experiment of his own. After building a fantastic laboratory with only household items, he reanimates his beloved dog. Unfortunately, the family's nosy neighbors become fearful of the monster, even though he has done no wrong. The climactic ending acts as an homage to James Whale's original 1931 film and its sequel, The Bride of Frankenstein. ~ Andrea LeVasseur, Rovi
News & Interviews for Frankenweenie
Critic Reviews for Frankenweenie
Audience Reviews for Frankenweenie
Tim Burton's debut short film is a very entertaining and amusing picture that for thirty minutes, gives us a glimpse of what Tim Burton would be able to accomplish with feature length movies. The film is a well acted impressive half hour of fun entertainment, and reinvents the classic horror tale of Frankenstein with a dog. The result is a fine short picture that is a must see for Tim Burton fans. I really enjoyed this take on the classic monster tale, and for a short film, it is very well done and is entertaining throughout. For me anyways, I found this one to be flawless and what made it stand out was the fine cast of talented actors who made it what it is. I liked that it had a classic vibe to it, like old school monster movies, and it made it enjoyable for people of all ages. This isn't scary whatsoever, and is quite frankly a bit underrated. Tim Burton would later craft bigger films, but I really think that this one is pretty special because it is quirky, funny, creepy, and downright memorable. For a monster film aimed for a younger audience, this one works brilliantly and it definitely is one the high points of Burton's career. This is the perfect film to watch if you want a different retelling of a classic horror tale, and Burton creates something totally special and highly entertaining from beginning to end. If you come across it, give this one a view, this is among the most entertaining short films that I have seen in a very long time, and if you're a Tim Burton fan, you owe it to yourself to check it out.
It says 92 on here, but this is from 84 actually. You can see by this short film how great a director Burton was already. If you're a fan of his, I highly recommend this dark comedy.
½
Young Victor decides to re-animate his dead dog, which then terrorizes his idyllic 50s neighborhood in this 30 minute B&W early short from Tim Burton. There are few surprises in this obvious Frankenstein spoof, except how surprisingly charming the whole thing is.
Frankenweenie Quotes
There are no approved quotes yet for this movie.