Frankie & Alice
(2014)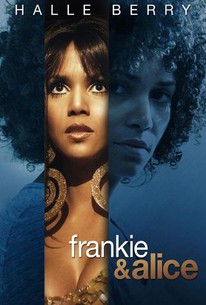 TOMATOMETER
AUDIENCE SCORE
Critic Consensus: Halle Berry gives it her all (and then some), but Frankie & Alice is ultimately too narratively strained and clumsily assembled to do her performance justice.
Movie Info
From Lionsgate and Codeblack Films and the executive producers of INTRODUCING DOROTHY DANDRIDGE and LACKAWANNA BLUES comes a mind-bending drama starring Academy Award (R) Winner and Golden Globe (R) Nominee Halle Berry (THE CALL, MONSTER'S BALL). FRANKIE & ALICE is inspired by the remarkable true story of an African American go-go dancer "Frankie" with multiple personalities (dissociative identity disorder or "DID") who struggles to remain her true self while fighting against two very unique alter egos: a seven-year-old child named Genius and a Southern white racist woman named Alice. In order to stop the multiple voices in her head, Frankie (Halle Berry) works together with a psychotherapist (Stellan Skarsgard) to uncover and overcome the mystery of the inner ghosts that haunt her. (c) Code Black
News & Interviews for Frankie & Alice
Critic Reviews for Frankie & Alice
Audience Reviews for Frankie & Alice
There was a time between the break of the new millennium and about three years in where it seemed as if Halle Berry would be an unstoppable force, destined for greatness as she became an X-Men (or woman), took the role of a Bond girl and mixed her big budget affairs in with smaller films that grabbed her Oscar nominations and the eventual first best actress trophy for an African American woman. Things seemed to be going better than perfect and audiences were willing to forgive interesting misfires like Swordfish and Gothika (at least she was trying to be versatile, right?) but then she made Catwoman and it seems ever since the actress has been trying to regain that credibility she possessed for only a brief amount of time. She has never seemed to simply accept her fate as Cuba Gooding Jr. so clearly has, but instead, continues to make films she seems to hope will make her that award winning actress again, serious dramas with heavy subject matter, but the problem has always been that these choices are obvious and not organic. They are pure bait it seems, even as a part of the bigger than her Cloud Atlas it sometimes seemed she was only present because she thought it might have a shot at garnering awards attention while the production at hand here, which has somehow managed to be delayed for four years, makes it clear the place Berry was in not too long ago and now. Maybe though, now, with another shot at the Storm role lined up this summer and a box office hit last year with The Call, she will try to find a middle ground that doesn't see her putting on an acting workshop to try and earn the praise of her peers, but simply allows the movies she finds herself in to take form around what she feels is suitable for the role and if Oscar comes a knocking, more power to her. Of course, I could be completely off and this fluctuation in her popularity, credibility and profitability could simply be based on her tendency of which scripts to choose, but if Frankie & Alice proves anything it is at least that Berry is ambitious and willing to keep on truckin' even when the tide is against her. read the whole review at www.reviewsfromabed.net
Philip Price
Super Reviewer
Turn back, look forward Good decent movie. The acting was really good actually but the story wasn't that interesting although it had a good ending in which it explained a lil the complicated story. The movie is based on true events. Halle Berry plays the role of young woman named Francine L. Murdoch (Frankie) with multiple personality disorder. The movie starts in Savannah, Georgia 1957, where a girl is shown in a car accident. The movie is forwarded to present Los Angeles, California 1978, where Frankie works in strip club. One night after an altercation Frankie lands up in Pearce psychiatric hospital where she is introduced to Dr. Joseph Oswald (Dr. Oz). Later Dr. Oz starts treating Frankie for multiple personality disorder and diagnoses her as having three personalities. 1) Francine L. Murdoch, Black Female Age 32, IQ 132 Right handed. 2) Alice, White female Age ?, IQ 102 Left handed. 3) Genius, Black Female Age 8-12, IQ 156 Right handed. The story then revolves with Dr. Oz and Frankie where he treats her for the multiple personality disorder. In due course of time he is able to discover the other two sub conscious personality and make Frankie realize her problem. And the movie ends with credit as below: Dr Oz treated Frankie until she was able to control her condition. He died in 2001. Frankie (with help from Genius) became a High School Teacher. She married a psychiatrist.
½
With I'm sure the best of intentions (and not a little hope for Oscar's roving eye), Halle Berry stars in (and produces) this big-screen Lifetime movie about a woman afflicted with a fractured personality who meets a kindly doctor who helps her Break Through To Find Herself. If any part of that sentece appeals to you, this flick might be for you. Berry is deeply sincere and throws herself into the proceedings full tilt, and there is pleasure to be derived from that I guess, but if you don't sense trouble in the opening credits when six (SIX) writers are credited on this one psychological drama, then maybe this one's for you. For me? Not so much.
Jeff Talbott
Super Reviewer
Frankie & Alice Quotes
| | |
| --- | --- |
| Edna: | I've always tried to do the best I could for Frankie. I've only done what was right! |
| | |
| --- | --- |
| Frankie Murdoch: | Frankie's not here. She's awake and frightened. I'm getting tired of having to step in for her... |