Frankie Starlight
(1995)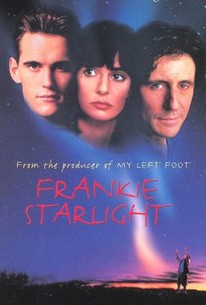 Movie Info
A small man with a big story examines the facts of his life in this drama. As Frank Bois enjoys the success of his first novel, he finds himself looking back on his highly unusual life. Frank's mother Bernadette (Anne Parillaud) was a French woman who, after the death of her parents and several close friends in World War II, smuggled herself aboard an Allied troop ship sailing to Ireland, exchanging sexual favors for silence among the soldiers who discovered her on board. A kind-hearted customs agent, Jack Kelly (Gabriel Byrne), allowed Bernadette to enter Ireland, and they soon became lovers, even though she was already carrying the child of one of the soldiers from the ship. Bernadette soon gave birth to young Frankie (Alan Pentony), who suffered from dwarfism. As he grew older, Frankie fell for Jack's daughter Emma (Georgina Cates), who clearly didn't care for him, while Jack generously shared his knowledge of astronomy with Frankie. Eventually, Bernadette encountered Terry Klout (Matt Dillon), an American soldier from the troop ship, who offered to marry her. Bernadette and Frankie accompanied Terry to his home in Texas, but both mother and son felt like fish out of water in the American West, and they returned to the Irish home they came to love. A sadder but wiser Bernadette eventually committed suicide, and Frank began to draw upon his life experiences as he put pen to paper for his first book. Based on the novel The Dork of Cork by Chet Raymo, Frankie Starlight was directed by Michael Lindsay-Hogg.
Critic Reviews for Frankie Starlight
Audience Reviews for Frankie Starlight
This might be not everyone s cup of tea, but I liked it very much. A beautiful poetry of Movie I think.
Not that familiar with Michael Lindsay-Hogg but this is an interesting effort.
John Ballantine
Super Reviewer
½
A fantastic film, love it!!
Frankie Starlight Quotes
There are no approved quotes yet for this movie.