Freaked
(1993)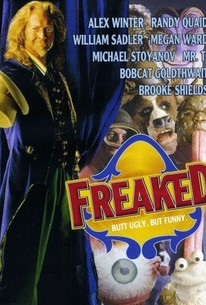 Movie Info
This rather warped but stylish little black comedy tells the story of Ricky Coogin, an avaricious, spoiled star who becomes the official spokesperson for the enormous Everything Except Shoes corporation without realizing that they are deliberately and irresponsibly marketing Zygrot-27, a deadly chemical fertilizer in Third World countries. To market the toxic green ooze, the actor is sent to Santa Flan, a small Latin American country with his best friend Ernie. The two are pursued by the actor's biggest, most obnoxious fan, Stuey Gluck. There Ricky meets American environmental activist Julie. He keeps his identity from the pretty girl secret for a time and the three of them travel together to Ricky's engagement. The trouble really begins when they stop to see Elijah C. Skuggs' roadside freak show. If they had known that Skuggs creates his "mutants" by dousing regular people with Zygrot-27 they might not have stopped. Unfortunately, they do and Ricky ends up turned into a disgusting creature and placed in a cage with the other "freaks." Things get even crazier after Ricky learns that he is about to be transformed into an evil super-freak and will be forced to kill his new companions on stage.
Critic Reviews for Freaked
Audience Reviews for Freaked
A vain actor is turned into a freak in a South American mutant circus by a mad scientist, using the same chemical he's recently become a spokesman for. Bizarre freak costume design and a parade of B-list celebrities (Mr. T as the bearded lady, Larry "Bud" Melman) make up for the hit-or-miss nature of the rapid fire NAKED GUN-style gags.
Totally insane, off the wall surreal comedy fantasy which is also a total spoof and not to be watched if your expecting anything remotely sensible haha. Alex Winter of 'Bill n Ted' fame is the main lead in this but for the most part he is cover in some tremendous prosthetics/makeup which look both effective and kinda daft at the same time. He is joined by quite a motley crew of character actors such as Randy Quaid, Bobcat Goldthwait, Mr T, William Sadler, Brook Shields and a cameo from Sam Raimi, watch out for Keanu Reeves in an uncredited role as 'Dog Boy'. The plot is utterly crazy and involves toxic waste hence lots of monsters and bizarre mutants, each and every mutant character is well created and range from something simply like a guy farting allot to a guy that has a sock puppet for a head :) you see how weird this is. All I can say is its a wild trip with tonnes of great makeup, wacky ideas and very little sense, almost like an old MTV music video.
Phil Hubbs
Super Reviewer
½
Oh Alex Winter, you're even cute as a mutant. I really liked this cheesy little 80's flick about mutants. It was just so fun and the soundtack is a blast. Classic.
Alexis Nomm
Super Reviewer
Freaked Quotes
There are no approved quotes yet for this movie.