Freaks
(1932)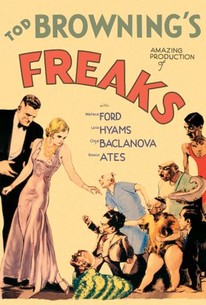 TOMATOMETER
AUDIENCE SCORE
Critic Consensus: Time has been kind to this horror legend: Freaks manages to frighten, shock, and even touch viewers in ways that contemporary viewers missed.
Movie Info
Real sideshow performers star in Tod Browning's infamous cult classic, a grotesque revenge drama set against a circus backdrop. Trapeze artist Cleopatra plans to wed and then murder midget Hans for his fortune, but when his fellow 'freaks' discover her scheme, she becomes the target of their horrifying vengeance.
Critic Reviews for Freaks
Audience Reviews for Freaks
Classic horror director Tod Browning's Freaks is a benchmark horror picture that has been praised for being a truly unique horror film. The controversy around this is quite legendary and before its release got cut significantly in an attempt to censor its content. Director Tod Browning used real sideshow performers with real deformities as a basis for his cast. In turn, Freaks has an authentic feel to it that if you really think about is quite horrifying and ultimately unsettling. This is a well executed picture that was banned and vilified and it ended the career of a promising director who's most famous work was Dracula starring Bela Lugosi. With every horror film that has been released since, it's hard to think that Freaks caused such astir upon release. If you love classic horror films, then give this one a shot. By today's standards it's a fairly harmless movie, but for horror fans that want to watch a classic piece of horror history, this is a must see film that will certainly appeal to genre fans. The film is very good, but will not appeal to everyone. However, fans should appreciate this gem for what it is, and there are some good performances here, and the tone of the movie is disturbing and it makes for quite the viewing experience. I think it's too bad that the film cost Browning's career, as you only imagine what other classic he could have made. Freaks is not perfect, but in terms of classic horror cinema, it is a picture that helped shape the genre for years to come. The fact that Browning has used real people with deformities is what has made this one stand out above other films, and it is what makes this picture so unique and shocking the process.
½
A pre-code horror film from legendary director Tod Browning, Freaks lives on in infamy for its perverse message, timeless lines, and use of circus sideshow freaks at the height of their fame. At the time Ringling Bros. and Barnum and Bailey circuses made it a point to include freak shows along with an animal tent and the three ring big tops of yore. These "freaks" were often well paid and lived their retirement years very comfortably, especially those lauded as the most unusual such as conjoined twins, human torsos, and giantesses. In the film many of the most famous and well paid freaks in the country were cast, including Prince Randanian, and the Doll Family, including Dolly and Harry Earles as the couple torn apart by Cleopatra's obnoxious money hungry plot with strongman Hercules. The main focus of the film is that the freaks are regarded as trifle oddities and not true people by the villainous Cleopatra, and she is hunted down and paid for the crimes she commits against a dwarf who looks eerily like a small boy but is actually a full grown man. The film itself is very progressive in showing these sideshow performers not just as regular people, but also showing the hurt inflicted by those with little thought for others' feelings in a time without political correctness. It was interesting to watch the many feats of the performing freaks, those afflicted with problematic birth defects, and the now defunct lives of freak show performers, today not prevalent in society because most states ban freak shows from operating. The film doesn't build successfully to the final hideous climax at the end, because the rest of the film focuses on the characters as people and not monsters. None of them seem able to do the deed attributed to Cleopatra's downfall and therefore it's an unbelievable premise. Their creepy chanting at the wedding banquet and the steely resolve in their eyes as the thunder rips across the sky is believable but doesn't make sense, and deserved some of that iconic chanting. The beginning half of the film is unusually trimmed in humor, and includes a love story between an aerialist and a clown. The ending isn't even very horrific, but instead comical, and the additional prologue they tacked on was more confusing than anything. Even the beginning spiel that introduces the film is morose and certainly insulting to the performers. Iconic and interesting, but not the horror classic I was expecting.
Spencer S.
Super Reviewer
This is a very cool movie. It has real people from circuses and a great story. The mixture of authenticity and a fantastic story makes for such a great movie.
Freaks Quotes
| | |
| --- | --- |
| Hercules: | They're going to make you one of them my little peacock. |
| | |
| --- | --- |
| Frieda: | Please Hans, don't cry. I love you. |
| | |
| --- | --- |
| Themselves: | Gobble gobble, gobble gobble. We accept her. One of us, one of us. |