Freaky Deaky
(2011)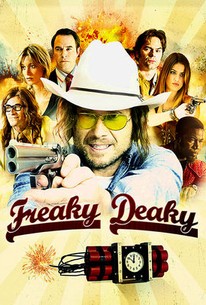 AUDIENCE SCORE
Critic Consensus: No consensus yet.
Movie Info
Based on Elmore Leonard's novel, a Detroit sex crimes unit investigation takes a series of strange turns in this funny, sexy homage to 70's filmmaking.
Critic Reviews for Freaky Deaky
All Critics (1) | Fresh (0) | Rotten (1)
Michael Jai White has some entertaining scenes as a swindling bodyguard. But it all feels like a bad "Starsky and Hutch" flashback.
Audience Reviews for Freaky Deaky
½
After being transferred to sex crimes from the bomb squad, Sergeant Chris Mankowski(Bill Burke) takes the complaint of Greta(Sabina Gadecki) who accuses millionaire Woody Ricks(Crispin Glover) of rape. In trying to pursue the complaint against Ricks, Chris not only has to go through Donnell(Michael Jai White), bodyguard to Ricks and his brother Mark(Andy Dick), but also gets suspended under the pretense that he is no longer living within the city limits. At the same time, Skip(Christian Slater) and Robin(Breanne Racano) are also interested in the Ricks brothers, but mostly just for their fortune. The popular line of thought concerning adaptations of Elmore Leonard stories is how often they go wrong(including two vastly overrated movies in the 90's), due to not understanding their sense of humor. On the contrary, even though it is not perfect, "Freaky Deaky" nails the darkly comic tone of its story of various and sundry characters on the make, some former radicals, in 1974 Detroit.(Which might sound odd considering it is at least partially centered around a sexual assault but it still works.) With just the right amount of world weary charm, Billy Burke is terrific in the lead, with Michael Jai White also doing very well in support. And as always with Crispin Glover, Christian Slater and Andy Dick, your mileage will vary.
The director Charles Matthau made this homage to the 70's filmmaking writing a screenplay based on the novel Freaky Deaky by Elmore Leonard. I really think that he did a good job if you liked those 70's "sexy" crime investigation - but I really don't know many people who have a positive opinion of them! No, we are not talking Columbo or Kojak approach - this is like those handsome guys and always handsome ladies around investigating dumb rich guys with black crime helpers type... and they are so dumb that whatever you do, they always manage to stay rich! [img] http://31.media.tumblr.com/57b27736b975c8b45de03f9a4170495f/tumblr_mhtbjc02LZ1qfss0oo1_500.jpg [/img] Some fans of this type of movies will think that this is funny and sexy movie starring Billy Burke as Chris Mankowski with Sabina Gadecki (from Law & Order) as Ginger on one side and Breanne Racano as Robin Abbott as a bad girl on the other side, trying to outsmart each other - while the rich and the criminals are in the middle. Christian Slater had a major role, but if you ask me now to remember what that was, I am not sure I can explain it! For me it was just an ordinary cheesy, sleazy, overblown and almost boring piece of work with no clear signature from the creators. It seemed like unoriginal work which will be lost in the oblivion as soon as you see the credits... of course I am not a fan of it, but I believe that there are some people out there who will find this work "fascinating". Freaky Deaky maybe sounds like fun... I wish it was.
½
A romance novel writer and a stunt man specializing in explosives develop a plan to extort millions from a perpetually stoned playboy. It sounded like a solid plan---oddball characters played by Crispin Glover and Christian Slater double-crossing each other in an adaptation of a Leonard Elmore novel---but the director bungled the the caper badly with unbelievable characterizations and jokes that fall flat.
Freaky Deaky Quotes
There are no approved quotes yet for this movie.