Freddy Got Fingered
(2001)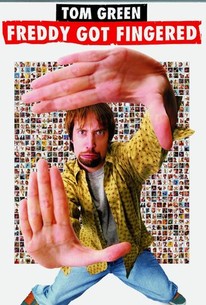 TOMATOMETER
AUDIENCE SCORE
Critic Consensus: Unfavorably comparing it with such infamously bad titles as Battlefield Earth, a significant number of critics are calling Tom Green's extreme gross-out comedy the worst movie they have ever seen.
Freddy Got Fingered Photos
Movie Info
Television star Tom Green makes his directorial debut with this gross-out comedy. Green stars as Gord Brody, a 28-year-old slacker who aspires to be an animator of Hollywood cartoons. After his dreams of working for studio mogul Dave Davidson (Anthony Michael Hall) temporarily wash out, along with his thankless job at a cheese factory, Gord returns home to live with his parents, Jim (Rip Torn) and Julie (Julie Hagerty). Jim wishes that Gord would simply grow up, move out of the basement, and get a real job like his younger brother Freddy (Eddie Kaye Thomas), who works in a responsible position at a bank. When the battle of wills between Gord and Jim heats up, Gord devises various stunt-like schemes to drive his father bonkers, including the bogus charge that their father molested Freddy as a youngster. Marisa Coughlan co-stars as Gord's wheelchair-bound, nymphomaniac, amateur rocket-scientist girlfriend Betty, while comedian and Green's fellow Canada native Harland Williams plays Gord's oddball neighbor Darren. ~ Karl Williams, Rovi
News & Interviews for Freddy Got Fingered
Critic Reviews for Freddy Got Fingered
Audience Reviews for Freddy Got Fingered
Tom Green's shtick is that you say, "What?" and give an uncomfortable laugh at his antics. He used this to get his own show on MTV, and he uses it here to make us empathetic to a loser character that does weird stuff. Some of this I found ridiculously unneeded and deliberately stupid. Sometimes I actually laughed, because why not? There's also the question as to why Rip Torn acts like a degenerate, abusive pariah most of the film, and it's treated like an interesting quirk. While there's really no reason to watch this film, sometimes it's funny to laugh at the weird, the inspired, and the zany. Though this film falls more under the heading of "gross" it's in the same vein.
Spencer S.
Super Reviewer
"The Horror! The Horror!" You are guaranteed to utter those words after watching Tom Green's self-indulgent, crude, vile, mindless, and utterly embarrassing attempt at comedy. There is literally no plot in this movie; it just a series of painful and a lot of the times disturbing comedy skits that aim to be shocking and offensive only to accomplish those goals TOO well. One of the biggest rules when it comes to comedy is that if you are going to be offensive then you better be funny about it (Ex. Sacha Baron Cohen in 'Borat'). I never saw Tom Green's popular MTV show but in this movie he disregards clever comedic timing in favor of shouting every single line like an idiotic man-child. This film contains some of the most grotesque and unpleasant skits you'll ever witness in the name of comedy. The film starts off okay with a slightly cool skateboarding sequence but things quickly take a turn for the worst when Green stops to grab a horse's penis. Things only get worst from there: literally wearing the skin of a dead deer, swinging a newborn baby by it's umbilical cord with blood spraying everywhere, child molestation jokes, many instances of animal cruelty, to even spraying elephant seamen. Green is obviously aiming for the gut but the jokes are simply not funny (which is the most offensive aspect of this movie). I can laugh at gross-out humor and go along with a nihilistic tone but Green's scatter-brained screenplay haphazardly balances these elements to say the least. There is just an unsettling air of mean-spiritedness undercutting the whole proceedings with the film's nasty dislikable characters (Green's character is by the far them most disturbing protagonist to NOT be in a horror flick) and graphic distasteful slapstick. This piece of ultra low brow trash is a movie that even people who laugh at bottom-of-the-barrel crap will have trouble sitting through. It may be only an hour and thirty minutes but it will feel like an eternity, and a very tortuous one. It is a humorless, depressingly mean-spirited, uncomfortable, and un-focused mess (Is it a satire? Is it surreal absurdity?). This is by far one of the worst comedies of all time, if not one of the worst movies of all time.
Christopher Heim
Super Reviewer
To elaborate on how much this film is loved, Leonard Maltin wrote a long, detailed review of the film, but the review was deleted because it was blowing up the site's search engine because, fucking come on, when people start to respect a film critic, the first two things they want to know is where Freddy Got Fingered places on their top 10 list, and does it rank lower or higher than Taxi Driver. The Holy Ebert himself said "this movie doesn't deserve to be mentioned in the same sentence with barrels." which was obviously a hint to his audience that he was ROLLING over with laughter. like barrels do. i love metaphors. and man, is this movie full of them. I remember when Gord is driving and has to pull over so he can aid an injured deer and the only memory he could locate that would help the situation is an instance where a man advised him to "get inside the fucking animal." AND BOY DOES HE DO IT! LOLZ! The Righteous Ebert looked up to this film so much that he had to give it zero stars because any star rating would just be a fucking grey hair in Tom Green's goatee.
Coxxie Mild Sauce
Super Reviewer
Freddy Got Fingered Quotes
| | |
| --- | --- |
| Gord Brody: | He's stupid! |
| Julie Brody: | Not stupid! |
| | |
| --- | --- |
| Gord Brody: | Look at me,daddy! I'm a farmer! |
| Gord Brody: | Look at me, daddy! I'm a farmer! |
| | |
| --- | --- |
| Gord Brody: | WE CAN LIVE LIKE KINGS!!! |