Freddy vs. Jason
(2003)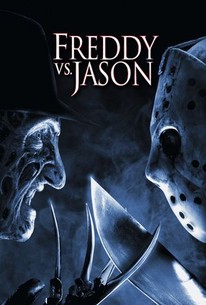 TOMATOMETER
AUDIENCE SCORE
Critic Consensus: Fans of the two horror franchises will enjoy this showdown. But for everyone else, it's the same old slice and dice.
Movie Info
Rumored and anticipated for years, the two biggest icons of the slasher genre finally meet in Freddy Vs. Jason, the eighth entry in the Nightmare on Elm Street saga and the 11th film in the Friday the 13th series, though with Jason X taking place in the future, it should be noted that the events of this film take place after the ninth film Jason Goes to Hell. And it is hell where Freddy Kreuger (Robert Englund) and Jason Voorhees (Ken Kirzinger, donning the hockey mask for the first time in a controversial snub against series veteran Kane Hodder) finally become acquainted. Banished there for eternity, Freddy devises a plan to manipulate Jason into continuing his work, hacking up the teenagers of Elm Street. All goes well at first until Jason realizes he's been duped by "the dream master" and is none too pleased. Coaxed by surviving teenagers Will (Jason Ritter), Lori (Monica Keena), and Kia (Destiny's Child's Kelly Rowland), Jason and Freddy descend upon Crystal Lake for a mano a mano battle royal. Helmed by Hong Kong director Ronny Yu (Bride of Chucky, The Bride With the White Hair), Freddy Vs. Jason features the director of the first Friday film, Sean S. Cunningham serving as producer. ~ Matthew Tobey, Rovi
Critic Reviews for Freddy vs. Jason
Audience Reviews for Freddy vs. Jason
Well it had to happen at some point and I was always game for it, finally the two supernatural death dealers clash. The only thing that instantly springs to mind when writing about this is when will I see Michael Myers, Pinhead, Ash, Leatherface or Chucky join in on this horror icon mash? You'd think the plot behind this would be silly but it actually kinda works in my opinion. Freddy seems unable to get it up anymore, he can't scare kids because everyone has forgotten about him. So he hatches a plan that involves raising Jason from the dead to bring terror back into kids lives hoping they will assume its him. Unfortunately for Freddy, Jason gets carried away and is killing way too many and spoiling Freddy's catch, thusly a fight ensues. So yes just like 'AvP' this is merely an excuse to see two iconic characters fight, the only difference is this film sticks to its trusted formula and delivers plenty of carnage. Now I'm not saying this carnage is worthy of praise, lets be frank we've seen it all before, but at least you get what you expect with no beating around the bush. Its all about the kills, Freddy does what he does best with his creepy dreamy imagery whilst Jason stomps around and hacks teenagers up. There isn't anything particularly ingenious or original going on here, the teen kills aren't exactly new and fresh and the adults running around trying to solve the issue do exactly the same thing they always do. I guess the fun part is seeing Jason upset Freddy by taking fresh kills away from him and causing tension between the two, inevitably this does result in small touches of dark humour which is cool. Its definitely a much better looking flick than most of the previous incarnations, the productions values are clearly quite high as its all very glossy. My only concern was maybe a bit too glossy, could of done with a hint of grit or that classic low budget feel perhaps. For shame on the decision to use CGI blood spurts in a few places, that's not cool at all and a worrying modern trend. Also one or two moments in the heat of battle do become a bit too farcical for my liking, just loses its edge...not that it was overly scary in the first place of course. End of the day if you're not a fan of gory slasher flicks or you don't follow them much then this isn't gonna change your mind. On the other hand if you're a fanboy or like me you simply like the two franchises then I think you'll like this a lot. Bottom line all this is really is fan service, but surprisingly its much better than you'd think. Silly thing is both of these characters are basically invincible and can't be killed, you can do virtually anything to either of them and they will still come back. So in theory it can keep going forever which does make the whole premise kinda daft really, at no point was I ever thinking that one of them would actually win. We all know and accept this to a degree but it just makes the whole battle a bit pointless really, at least Jason didn't team up with the kids against Freddy, which it was slightly hinting towards near the end. For lack of a better term...it does exactly what it says on the tin, and that's deliver a tidal wave of stereotypical killings and setups but with the huge added bonus of seeing both Freddy and Jason slug it out. OK I admit it...its pretty much completely for the fanboys, but if you're a fanboy then get that handcream ready cos its geekgasm time!
Phil Hubbs
Super Reviewer
½
A generally horrible story with so much video game type of action and CGI that it's instantly annoying. Speaking of annoying, these teenagers got on my nerves. It was really quite surreal to watch Freddy and Jason fight, though. And they had such a stupid reason too. I only gave this movie the rating I did because of how scary I felt it was. Not a good movie, but it did creep me out.
½
A fantasy match-up that doesn't live up to the hype. Freddy vs. Jason pit two iconic slashers and it's bloody, disdain and overall, predictable. The ensemble (aside from the slashers themselves) are simplistic and do no good in even hyping up the confrontation. 2.5/5
Eugene Bernabe
Super Reviewer
Freddy vs. Jason Quotes
| | |
| --- | --- |
| Freddy Krueger: | It's time to put this mad dog to sleep, FOR GOOD! |
| | |
| --- | --- |
| Freddy Krueger: | My children... from the very beginning, it was the children who gave me my power. The Springwood Slasher, that's what they called me. My reign of terror was legendary. Dozens of children would fall by my blades. Then the parents of Springwood came for me, taking justice into their own hands. When I was alive, I might have been a little naughty, but after they killed me, I became something much, much worse. The stuff nightmares are made of. The children still feared me, and their fear gave me the power to invade their dreams, and that's when the fun REALLY began. Until they figured out a way to forget about me. To erase me completely. Being dead wasn't a problem, but being forgotten, now that's a BITCH. I can't come back if nobody remembers me. I can't come back if nobody's afraid. I had to search the bowels of Hell, but I found someone, someone who'll make 'em remember. He may get the blood, but I'll get the glory, and that fear is my ticket home. |
| | |
| --- | --- |
| Billy: | Dude, that goalie was pissed ... |
| | |
| --- | --- |
| Gibb: | You're the one that killed Trey! |
| Freddy Krueger: | Oh, don't worry about my little errand boy. The only thing to fear, is fear himself! [Gibb stumbles and falls over railing] |
| Freddy Krueger: | Oh. |