Freddy's Dead: The Final Nightmare
(1991)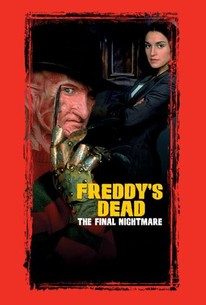 TOMATOMETER
AUDIENCE SCORE
Critic Consensus: Reducing the once-terrifying Dream Reaper into a goofy caricature, this joyless climax will leave audiences hoping Freddy stays dead.
Freddy's Dead: The Final Nightmare Photos
Movie Info
Adolescent therapist Maggie leads her patients on a trip to Springwood, hometown of her newest patient -- and vicious dream-killer Freddy Krueger. When strange deaths follow, Maggie must face the secrets of her own childhood in order to battle Freddy in this entry in the Nightmare on Elm Street series.
Critic Reviews for Freddy's Dead: The Final Nightmare
Audience Reviews for Freddy's Dead: The Final Nightmare
Yeah, this one is exceptionally bad. Lol. I bought the box set of first 7 movies, so slowly working my way through. Liked the series, but some are definitely better than others. This one barely has a story to it. Apparently was in 3d, which isn't how I watched it. Maybe that would have improved it. Well, it's watchable, but nothing great.
Nicki Marie
Super Reviewer
½
Freddy's Dead: The Final Nightmare may not be one of the best in the series, but you have to admit it's hilarious. This is Krueger at his funniest. NOT scariest, NOT meanest, just funniest. And I don't mean the characters are so funny (although sometimes they are), but Freddy steals the show with his demented sense of humor. This movie is damn funny. It's the most slapstick-ish one in the series. It plays off like a violent cartoon for adults. It's like a movie that knows it's bad but has a good time making fun of itself. That works! There are no scares, no gore, no tension...it's just joke, after joke, after joke. Maybe not all 600 jokes are funny, but I'm sure you'll find about 300 that are. And is that bad? Is a movie that makes you giggle a sucky movie? Why would it be? I like laughing, and Freddy's Dead made me laugh. It's like one big joke, almost a spoof. So for it's worth, this joke rocked. Freddy's Dead: The Final Nightmare is purely fun entertainment. Recommended.
jd cryptic
Super Reviewer
This is the weakest film in the series, yet. Just when you thought Freddy's Revenge was the worst sequel, this one tops it. At first, I used to love it, but now, I always notice something wrong with the film. The acting sucks, the kills are are cartoonish,Freddy looks like he's made of rubber and the overall film fails to deliver on anything that was great in the previous films. The "end" of Freddy is so lame, it's silly. The film is more comedic than anything and really isn't that great to begin with. The film does have great moments, such as a cameo by Alice Cooper, Johnny Depp, and Tom Arnold, not even that can redeem this film. The idea was great, but execution was poorly done, and thus Freddy's dead ends being the weakest sequel in the series.
Freddy's Dead: The Final Nightmare Quotes
| | |
| --- | --- |
| Freddy Krueger: | Kids... (EXPLOSION) |
| Freddy Krueger: | Kids... [EXPLOSION] |
| | |
| --- | --- |
| Freddy Krueger: | I'll get you my pretty, and your little soul too! |
| | |
| --- | --- |
| Freddy Krueger: | I'll get you my pretty, and your little soul too! |
| | |
| --- | --- |
| Freddy Krueger: | I'll get you my pretty, and your little soul too! |