Free and Easy (Easy Go)
(1930)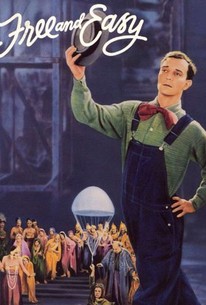 AUDIENCE SCORE
Critic Consensus: No consensus yet.
Free and Easy (Easy Go) Photos
Movie Info
Buster Keaton's talkie debut (discounting his non-speaking guest appearance in Hollywood Revue of 1929) was Free and Easy, an uneven but generally amusing comedy with a Hollywood setting. When pretty Elvira (Anita Page) of Gopher City, Kansas wins a beauty contest, her prize includes a trip to Tinseltown and a screen test at MGM. Appointing himself protector of Elvira and her formidable mother (Trixie Friganza), gas-station attendant Elmer Butts (Keaton) accompanies them to California. Once they've arrived, Elmer manages to disrupt the daily MGM routine, stumbling into films in progress, knocking over sets and breaking props, and finding himself taking a screen test in which he repeatedly blows the single line "The queen has swooned" ("The sween has quooned", "The coon has sweened") over and over. Meanwhile, latin-lover film star Lorenzo (Robert Montgomery) sets his sights on innocent Elvira, attempting to seduce her while Elmer's back is turned. But Lorenzo turns out to be a good guy -- in fact, his real name is Larry, and he's a Kansas boy himself -- and he arranges for Elvira to get her big break. In a surprise turnaround, Elvira doesn't win a contract, but Elmer and Elvira's mom become popular musical-comedy stars! The film is studded with guest appearances by such MGM contractees as directors Cecil B. DeMille, Lionel Barrymore, Fred Niblo, and actors Gwen Lee, John Miljan, William Haines, Karl Dane and Keaton's then-girlfriend Dorothy Sebastian. Free and Easy was also filmed in French, Spanish and German-language versions, with Keaton speaking his words phonetically in all three. The film was remade as Pick a Star in 1937, and as Abbott and Costello in Hollywood in 1945.
Critic Reviews for Free and Easy (Easy Go)
All Critics (2) | Fresh (0) | Rotten (2) | DVD (1)
...the studio wanted him to say funny things rather than do funny things, and they were eager to show off their new sound equipment with numerous song-and-dance routines.
Audience Reviews for Free and Easy (Easy Go)
½
I liked this movie for most of it, but the ending is disappointing. It starts out very funny, but slowly looses steam and doesn't end well. I only recommend this to big fans of Keaton who, like me, just want to see all his movies.
Free and Easy (Easy Go) Quotes
There are no approved quotes yet for this movie.