Free Enterprise
(1999)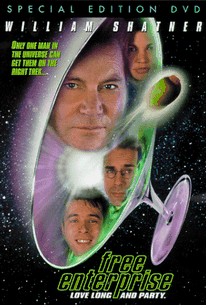 Movie Info
Brimming with pop trivia and allusions that will likely sail over the heads of non-sci-fi fanatics, this fast-paced independent comedy recounts the adventures of two "fanboys" in their late '20s as they look for romance, life's direction, and their idol William Shatner. Aspiring filmmakers Robert and Mark (Rafer Weigel and Eric McCormack) are true sci-fi fanatics and occasionally appear to have lost the ability to discern the difference between reality and fantasy. Mark is first seen trying vainly to sell his movie "Bradykiller." Later, he and Robert are awe-struck to encounter the godlike (in their eyes) Shatner, who in earlier fantasy sequences had appeared throughout their lives as an advice-spouting quasi-guardian angel. Mark and Robert are more surprised and delighted when Shatner becomes their friend. Disillusionment sets in when the two young men discover that "Bill the person" is nothing like his near-mythical character Captain Kirk, but instead is an average middle-aged guy who is just as clueless about life as they are. Shatner confides that his fondest dream is to stage a production of Shakespeare's Julius Caesar and play all the roles himself. Conflict arises when Robert falls in love with the more down-to-earth Claire (Audie England). The story's highlight comes in the final scenes when Shatner performs an outrageous homage to The Bard. Screened at the 1998 AFI/LA Film Festival, Free Enterprise won the "Best New Writer" award for scenarists/directors Robert Meyer Burnett and Mark A. Altman, and a "New Directions Award" for Burnett.
Critic Reviews for Free Enterprise
Audience Reviews for Free Enterprise
½
This film could have been terribly amusing but it commits the greatest sin - it is terribly boring. Poor William Shatner. I hope he was paid well.
John Ballantine
Super Reviewer
The cut I saw of this movie was a little long and a lot of the scenes could have been shortened or cut out all together. The characters were good and the journey they go on was good to watch. It had a lot of fn stuff in it but people not into the fan stuff should be able to follow the flick. I'm a little suprised that Shatner was in the flick as he is playing himself and comes off as a little crazy. I didn't mind the rap at the end either.
Jason Spencer
Super Reviewer
A dopey, low-rent Swingers knock-off that opts to dry hump film geek and comic book culture instead of swing dancing and martini culture. The references are great even if the execution was really weak. The scenes with Shatner are worthwhile, but for as much as this movie is right up my alley, it just came off as really contrived and from what I caught (there was a point where my friends and I took what would become a permanent break from it), it never really came together. And when I saw the rest from oddly enough where I left off upon my initial viewing it was even worse. The climactic party with Shatner rapping/delivering a monologue was nothing short of awful.
Michael Gildea
Super Reviewer
Free Enterprise Quotes
| | |
| --- | --- |
| Robert: | Mr. Shatner, I just wanted to say that you are the greatest American actor, ever! |
| Bill: | I'm a Canadian. |
| Robert: | Then you're the greatest Canadian actor... ever! |
| Bill: | There aren't that many of them. |
| | |
| --- | --- |
| Mark: | If you play both Brutus and Caesar, won't you have to stab yourself in the back? |
| Bill: | I've done it before. |