Free Jimmy (Slipp Jimmy fri)
(2006)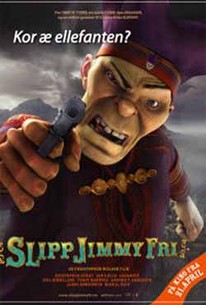 Free Jimmy (Slipp Jimmy fri) Photos
Movie Info
A drug-addled elephant is on the run from people who either want to help him or kill him in this dark computer-animated comedy that is decidedly not for children. Jimmy is a performing elephant who travels with a third-rate Russian circus run by ringmaster Stromowski (voice of Jim Broadbent). Jimmy's minder is a sleazy American expatriate, Roy Arnie (voice of Woody Harrelson), who keeps the nervous beast pacified with regular doses of heroin. Roy has also hidden a large stash of the drug under Jimmy's skin, but Roy's decided he wants out of circus life and plans to sell the dope and go his own way. However, in order to do that he has to put Jimmy out of his misery, and he recruits three stoner buddies -- Odd (voice of Simon Pegg), Gaz (voice of Phil Daniels) and Flea (voice of Jim Simpson) -- to help whack the elephant. However, it seems Roy is also in debt to some gangsters (voices of Reece Shearsmith, Mark Gatiss and Steve Pemberton) who happen to know that he's hidden the drugs in the elephant, and they're aiming to grab Jimmy before Roy and his pals can. As it happens, they're both beaten to the punch by a group of dim-witted animal rights activists led by Marius (voice of Kyle MacLachlan), who liberate Jimmy and the other circus animals, not realizing they've just sent a junkie pachyderm into the wilds as it's going cold turkey, with only a friendly moose for help. Free Jimmy also features the voice talents of Samantha Morton, Emilla Fox and Lisa Maxwell. Though it was produced in Norway, two versions exist, one with a mostly English-cast (referenced above) and one with a mostly Norwegian cast. ~ Mark Deming, Rovi
Critic Reviews for Free Jimmy (Slipp Jimmy fri)
Audience Reviews for Free Jimmy (Slipp Jimmy fri)
½
CGI animted adult adult rated movie. The jokes are funny enough but with a sinister and often pointless punchline. The undertone of the movie is built up around drug use and trafficking, inside an Elephants tummy to say the least. I didnt watch this movie with much expectation and left with less, but for some this movie will be cult comedy.
Alexander Wilson
Super Reviewer
½
Really weird and not my kind of movie at all, despite the fact that it has actors like Woody Harrelson and Kyle McLachlan doing the voice-overs. As for the many reasons of why I didn't like it, I'm not quite sure where to begin, but for one thing, the animation is pretty crappy and a real mess. They're jerky, stiff and about as far away from Pixar and DreamWorks as you can come. Not to mention the ugly character design, which felt like needles to the eyes. Overall, however, I'd say it's an okay film. Nothing I'd recommend, but not so bad that it's unbearable to watch.
What in the hell was this?.,......absolute mince immafraid. I had hoped for much more mand was seriously dissappointed.....you might not be but then again.......................
Barry Lappin
Super Reviewer
Free Jimmy (Slipp Jimmy fri) Quotes
There are no approved quotes yet for this movie.