Free Men
(2012)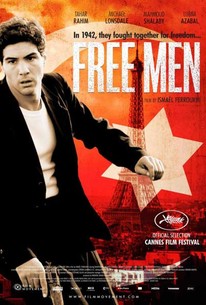 Movie Info
In German-occupied Paris, a young unemployed Algerian named Younes (played by break-out star, Tahar Rahim) earns his living as a black marketeer. Arrested by the French police but given a chance to avoid jail, Younes agrees to spy on the Paris Mosque. The police suspect the Mosque authorities, including its rector Ben Ghabrit, of aiding Muslim Resistance agents and helping North African Jews by giving them false certificates. At the Mosque, Younes meets the Algerian singer Salim Halali, and is moved by Salim's beautiful voice and strong personality. When Younes discovers that Salim is Jewish, he stops collaborating with the police and gradually transforms from a politically ignorant immigrant into a fully-fledged freedom fighter. -- (C) Film Movement
Critic Reviews for Free Men
Audience Reviews for Free Men
In occupied France, Younes(Tahar Rahim) works in the black market. During an immigration dragnet, he is arrested while his cousin Ali(Farid Larbi) escapes. Younes is given a choice, either cooperate with the authorities and spy for them or be deported. He chooses to stay and is assigned to infiltrate the mosque presided by Ben Ghabrit(Michael Lonsdale). It is there that Younes encounters Salim(Mahmoud Shalaby), a young singer, using a dabrouka as a calling card. "Free Men" has a few things going for it, like its unique angle on occupied France, just as nationalism for North Africa was starting to kick into gear with immigrants being pulled in two separate directions at once. But even with a milieu as neat as this one, you need a decent story which is missing here. Plus, the lead character is more than a little lacking.(Whether this is because Younes is only a composite character and Salim and Ben Ghabrit were real people is up for debate.) But then somebody should have told Michael Lonsdale, possibly miscast as he is, that this wasn't his movie, as he steals it simply through the careful application of quiet dignity.
Really well done, and an interesting look at Paris under the Nazi heel, especially as the terror strikes Parisian Jews. I found the Islamic music trying, others may not, but the film is a low-key A list French production. Great actors. Great retelling of history.
Cynthia S.
Super Reviewer
Free Men Quotes
There are no approved quotes yet for this movie.