A Free Soul
(1931)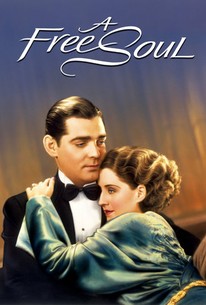 AUDIENCE SCORE
Critic Consensus: No consensus yet.
Movie Info
In this film, Stephen Ashe is a hotshot Californian lawyer. After winning a case for mobster Ace Wilfong, Stephen brings his client along to a party at his parents house. However, when they arrive at their destination, Ace manages to steal the heart of Stephen's wild daughter.
Critic Reviews for A Free Soul
All Critics (3) | Fresh (2) | Rotten (1)
Contains what may be the first instance of the 'If it doesn't fit you must acquit' defense: Barrymore wins Gable's freedom by having the accused man place on top of his head the too-small hat that was found at the scene of the crime.
Designed as star vehicle for Norma Shearer, this sensationalistic melodrama about a brutal gangster (the young Clark Gable) and boozy lawyer could not have been made after 1934, when the rigid Production Code was put in effect.
Despite the talented cast, this one ends up looking preposterous.
Audience Reviews for A Free Soul
½
This is most notable for containing what could be the first instance of what has become a Hollywood staple, the climactic courtroom speech. Barrymore ramps the ham factor up to eleven with his, rather unconvincing, plea for the jury to give Howard a break. As courtroom scenes go only Pacino's craziness at the end of "And Justice For All" tops it. As with that film, the preceding narrative isn't really worth sitting through for the payoff. We associate Gable with the dashing romantic leads of "It Happened One Night" and "Gone With The Wind" so it's a shock to see him playing a nasty scoundrel here. As a mob boss he's quite intimidating, not someone you want to cross. Shearer finds him utterly seductive though, practically orgasming at first sight of his rugged looks. After the introduction of the code, criminals couldn't be portrayed as glamorously as Gable, and good girls like Shearer certainly couldn't be shown falling for them. Shearer isn't portrayed as being anyway likeable so it's hard to sympathise when she gets herself in trouble. Even when Gable starts roughly man-handling her she doesn't seem all too bothered anyway. More focus should have been placed on her fiance, the always great Howard. He goes to great lengths to help her but loses his dignity in so doing, eventually ending up in the climactic courtroom scene on a murder charge. The movie is based on a novel by Adela Rogers, daughter of Earl Rogers, a brilliant but alcoholic lawyer of the time who was famous for the sort of showboating techniques displayed here. Barrymore and Shearer are basically glamorised versions of the father and daughter. She later wrote a biography which was adapted for the screen in 1991 as "Final Verdict" starring Treat Williams. Despite Barrymore picking up a Best Actor Oscar, the movie has faded into obscurity and is really only of interest to film historians (or those who insist on writing about Pre-Code Hollywood).
The Movie Waffler
Super Reviewer
A father and daughter movie where each has a vice that the other is trying to rid the other of. It's a very interesting story, and you can learn a lot from it. I really liked Shearer and Gable in this movie, they give very good performances.
Gable's charisma is in full evidence here, even as a villian and Norma looks great but the film is hampered by staginess and some very mannered acting.
A Free Soul Quotes
There are no approved quotes yet for this movie.