Free Willy
(1993)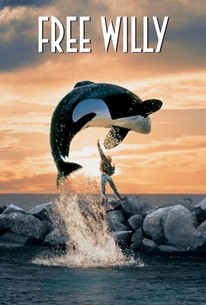 TOMATOMETER
AUDIENCE SCORE
Critic Consensus: Free Willy tugs at the heartstrings skillfully enough to leap above the rising tide of sentimentality that threatens to drown its formulaic family-friendly story.
Movie Info
The touching story of a boy and his killer whale made this family drama a surprise box office hit. Jesse (Jason James Richter) is a kid without parents who has bounced from one foster home to another and is living on the streets. One night, he's caught spraying graffiti with his friend Perry (Michael Bacall) in a theme park. Jesse and Perry are caught red handed by Dwight (Mykel T. Williamson), a policeman who thinks that Jesse needs a more stable and disciplined environment. Dwight arranges for Jesse to stay with a new foster family, Glen and Annie Greenwood (Michael Madsen and Jayne Atkinson), with whom Jesse has an initially stormy relationship. Part of Jesse's punishment involves cleaning up the damage he caused at the park, where the new attraction is Willy, a killer whale who is being trained to do tricks. However, Willy was traumatized when he was stolen from his family by mercenary fisherman and does not respond well to the genuine concern of his trainers, Rae (Lori Petty) and Randolph (August Schellenberg). Jesse and Willy, both stranded without families in a place where they don't fit in, develop a close emotional bond, and with Jesse's help, Willy begins to display aptitude as a performer. Thanks to his friendship with Willy, Jesse develops a new sense of responsibility and a healthier relationship with the Greenwoods. However, Dial (Michael Ironside), the owner of the park, doesn't much care for animals and isn't happy with the slower-than-expected progress of Willy's training; having insured the whale for $1 million dollars, he figures that Willy is worth more dead than alive, and Jesse, Rae, and Randolph have to rescue their aquatic friend and return him to the ocean when Dial seems ready to live up to his threats. Free Willy, which featured a star performance by a killer whale named Keiko (who is doubled in some scenes by animatronic models) included the theme song "Will You Be There," a top-ten hit for Michael Jackson, and spawned two sequels. ~ Mark Deming, Rovi
News & Interviews for Free Willy
Critic Reviews for Free Willy
Audience Reviews for Free Willy
½
[img]http://images.rottentomatoes.com/images/user/icons/icon13.gif[/img] The story is pretty cute and entirely inspirational but it's not that emotionally involving and a majority of its run time involves watching the orca jump. In comparison though it doesn't have enough cuteness or charm to be a memorable piece. It's worth a look. Just jump right in with lowered expectations.
Directors Cat
Super Reviewer
½
Free Willy is a decent family film. I remember liking it as a kid, but it's one of those family films that doesn't really age well. I can think of many other childhood favorites that are better than this. Everyone knows the story of Free Willy. This is one of those films that really doesn't do anything that great. I enjoyed it as a kid, but it's not one of those films that stand out among other childhood favorites. Looking back now, the film is good, but is never anything great. The acting is average for a film like this, and so is the story. The best actor in this film is Michael Ironside and the rest of the cast are really so-so. Free Willy is a decent family film, never anything great, and compared to the films from my childhood, Free Willy is my least favorite. The film isn't really memorable. As a family film, it's perfect, but one should realize that this isn't a film that will stick with you, unlike so many other family films such as Toy Story, The Sandlot and Home Alone. Free Willy is entertaining, but it feels so ordinary in terms of a family film. This isn't the type of film that can withstand multiple viewings. Free Willy might have been good as a childhood film, but it's one that hasn't stood the test of time. I'll stick with Toy Story, at least that film is timeless, and lots of fun with good acting on the actors parts. But this, this feels like it tries too hard at being a sentimental film, and it just doesn't cut it.
Makes me cry everytime! A childhood favourite and a classic!
Bethany Murphy
Super Reviewer
Free Willy Quotes
There are no approved quotes yet for this movie.