Freejack
(1992)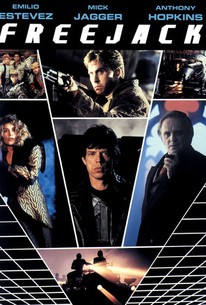 Movie Info
Alex Furlong, a race driver from the present (Estevez) is transported, just before his fatal crash, to the future where dying corporate CEO McCandless (Hopkins) plans to take over his body. Furlong escapes and tries to survive in a world he knows nothing about. Interesting concept but the movie is all style and no substance.
Critic Reviews for Freejack
Audience Reviews for Freejack
I saw this a long time ago, I need to watch it again. I remember that Emilio Estevez and Mick Jagger were really cool in this movie, and it had an interesting futuristic story.
A pretty good time travelish movie. I liked the action and the fish out of water vibe we have with Estevez running around the future not knowing who to trust. It's fun.
Jason Spencer
Super Reviewer
This movie has interesting ideas. It's too cool seeing Mick Jagger as the chief baddy in a science fiction film. This wasn't an epic; it was a low-budget dumpy future portrayed. Good story though.
Lafe Fredbjornson
Super Reviewer
Freejack Quotes
There are no approved quotes yet for this movie.