Freestyle
(2000)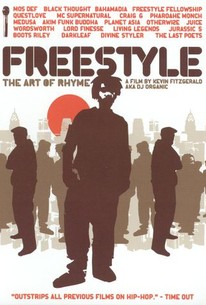 Movie Info
The pioneers and current purveyors of the vibrant art of freestyle hip-hop mingle in this hour-long documentary about the origins and future of the style. Shot in New York City, L.A., and San Francisco, Freestyle alternates between informed commentary -- by rap stalwarts such as The Last Poets, Mos Def, Supernatural, and Cut Chemist -- and impromptu vocal performances. Throughout, the filmmakers trace the social consciousness of the genre and suggest that it may be making a comeback. Director Kevin Fitzgerald previously made his name as a deejay on L.A. radio station KPFK.
Critic Reviews for Freestyle
Audience Reviews for Freestyle
½
The first full movie that I've seen on YouTube! It's a very good and thoughtful overview of what makes freestyle rhyming a true artform. Has some good footage of battles, flow sessions, and cyphers, and gives an interesting history as to how it all started. It doesn't really offer any new insight into technique, it's more of a history and overview targeted mostly at people who don't really know what freestyle rhyming is. I selfishly would have liked to see more footage of well-known artists back in their freestyle days, just because it would have held my attention better. But it does show some great sessions from MC Juice, Mos Def, and others. Check it out, the whole documentary is on YouTube.
Freestyle Quotes
There are no approved quotes yet for this movie.