Freeze Frame
(2004)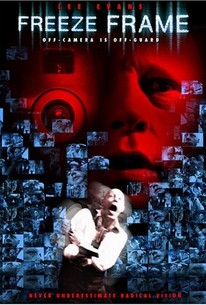 Movie Info
An ultra-paranoid murder suspect videotapes himself round the clock so he'll have a rock-solid alibi if he's ever accused of another crime. But, the one tape that could prove him innocent mysteriously disappears, and he's forced to go on the run to fabricate the evidence.
Critic Reviews for Freeze Frame
Audience Reviews for Freeze Frame
½
cool movie.. interesting storyline and ending.. had some great acting as well. some parts were really weird which fitted the whole atmosphere perfectly...... this movie is definatly worth watching!
Paul Atkinson
Super Reviewer
This dark, moody and atmospheric drama is drenched in black and gray shades, almost devoid of color and life. It has an interesting gimmick that is stretched a bit too thin..either the lead character is guilty and is mentally ill, or is innocent and the world is out to get him. The acting by Evans is on spot, however the surrounding cast tries too hard at times, and their performance suffers. The plot is a one trick pony that sustains life by continually twisting and turning, so the viewer is kept wondering till the very end, when more twisting is conducted than a chubby checker song. Orwellian in tone, this film is a fairly original piece of work thats worthy of your attention.