Frenzy
(1972)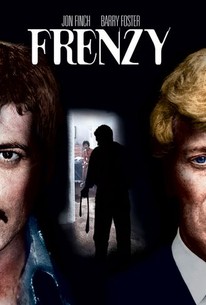 TOMATOMETER
AUDIENCE SCORE
Critic Consensus: Marking Alfred Hitchcock's return to England and first foray into viscerally explicit carnage, Frenzy finds the master of horror regaining his grip on the audience's pulse -- and making their blood run cold.
Movie Info
Suspenseful, disturbing, and darkly humorous, Frenzy, directed by Alfred Hitchcock, is the story of a rapist-murderer, whose distinctive murder weapon has led him to be labeled "The Necktie Murderer." The film, typical of many of Hitchcock's works, focuses on a man wrongly accused, who must now find the true killer to prove his innocence. In Frenzy, Richard Blaney (Jon Finch) is accused of killing both his girlfriend and his ex-wife, along with other women in and around London. The true murderer, revealed early on in the film, is his friend, Robert Rusk (Barry Foster). The film is more brutal and overtly sexual than previous Hitchcock films, particularly Hitchcock's depiction of the murder of Brenda Blaney (Barbara Leigh-Hunt) which shows, with an almost perverse fascination, her face in tight close-up, frozen with fright and pain, as she is raped and strangled while she prays. The film is also noted for its dark humor, which includes a woman's body, hidden in a sack of potatoes, which causes Barry, the murderer, a great deal of difficulty when he realizes that the woman has his distinctive cuff link still clutched in her hand. The retrieval of the cuff link leads to a darkly comic chase behind a potato truck where the body has been hidden. Frenzy also features a tightly written, complex screenplay, adapted by Anthony Shaffer from Arthur La Bern's novel, Goodbye Picadilly, Farewell Leicester Square.
Critic Reviews for Frenzy
Audience Reviews for Frenzy
Employing several Hitchcockian devices, Frenzy is a terrific thriller with a wry sense of humor. His return to London to film this story in 1973 reinvigorated the master of suspense. Frenzy features more familiar storytelling than the previous few films, critical and box office disappointments. The audience discovers the killer's identity early on, an innocent man is accused, and food is used as a comic device. The smooth "necktie killer" is infatuated with women linked to the accused. On this point, I am reminded of similar plots in Eastwood's Tightrope and Bruce Willis' Striking Distance, both released years after Frenzy. Also, the handsome, charming killer played by Barry Foster reminds me of Ted Bundy. Frenzy feels like a fresh re-take on many earlier Hitchcock films, among them 1943's Shadow of a Doubt. Also, the killer's mislaid tie pin is reminiscent of the cigarette lighter in Strangers on a Train. The most obvious update is the level of sex, nudity, and graphic violence. This R rated film graphically displays what earlier films could only hint at. Featuring palpable tension throughout and Hitchcock's trademark dark humor, Frenzy is an excellent film. It may deserve more than an 80, but I'm awarding that score in relation to his masterpieces.
Clintus Maximus
Super Reviewer
½
Frenzy is the most underrated Hitchcock masterpiece, and works on every level of suspense, cinematic brilliance, sparkling British humor and perverse misanthropy. It was the elderly and ailing maestro's return to his home town of London after more than 30 years in Hollywood. Still the film feels authentically British, features no major movie stars, but some superb theater actors of the 70's. Frenzy has few sympathetic characters and has been accused of misogyny. The males (including the innocent protagonist) are mostly blind, selfish pigs and its women (with one exception) are far more sympathetic, brave and interesting. On the down side, the film does indeed recycle many of Hitch's favorite themes and techniques, and if you've see a lot of the master's oeuvre, you may feel you're seeing more of the same. To me, this is a pure distillation of everything he does well and wants to say as an artist (he died only a few years later and made only one more unsucessful film, Family Plot). It's not a happy message, since this world is full of selfish self aborbed people who allow evil to happen through their indifference. Plus, this story is much more coherent than some of Hitch's more acclaimed later flicks, like The Birds, probably because his collaborator is the great thriller playwright Anthony Shaffer (Sleuth).It's the story of a 'necktie' rapist serial killer, the fruit broker Rusk (Barry Foster) and his innocent unemplyed loser friend Blaney (Jon Finch aka Polanski's Macbeth) who is set up to take the heat for the crime. The Scotland Yard inspector (Alec McCowan) is led by the nose by the charming and slick Rusk, who has targeted the women in Blaney's life so his trusting mate can take the rap. The targets (among many others) are Blaney's kind and capable ex-wife and his trusting barmaid girlfriend. To defend Hitch of the accusation of misogyny, the rapes and killings are not at all titillating. There is only one crime that is graphically depicted and it is horrifying and respectful of the victim's humanity. Not as virutosic as the Psycho shower scene, though similar, it's an excellent, harrowing piece of cinema. Even more affecting is the second crime, which isn't shown. Just as the victim is lured by Rusk into his pad, the camera pulls away, down two flights of stairs, out into the street on a huge crane, where life goes on indifferently outside. No music. It's perhaps the most tragic and affecting shot in all of Hitchock and makes me want to cry.Another highlight is the potato truck scene, where the killer has dumped a body and is trying to remove from her rigor mortis hands an incriminating piece of evidence, It's done with extreme close ups and hand held shots and is hilarious, gross and tragic.The comedy in the film is mostly delightful It includes Hitch's ultimate rejection of gourmet cooking and pretention, as the Scotland Yard cop's wife tries to spice up their bland marriage with inedible gourmet food, which looks repulsive. The poor man just wants bangers and mash. The misogynist rap can possibly be laid here, though the wife seems much more perceptive than her husband about the actual murderer. The film shows a grungy and desaturated colored London full of rotting fruit and depressing locations. Though much of it is set in Covent Garden, it's the Covent Garden of the early 70's, not the tourist trap of today, a crowded place of rotting produce and sweaty Londoners. In any case, I would rate this in the top 10 of Hitchcock, and if you're a fan and haven't seen it, do so.
Josh Morris
Super Reviewer
One of the great Hitchcock films, and it doesn't take long for him to make his guess appearance in this one. A innocent man is being blamed for the necktie murders in London, and his friend is the real killer. Film comes with many a twist and turns that will even now after all these years keep you on the edge of your seat. 5 stars 3-10-12
Bruce Bruce
Super Reviewer
Frenzy Quotes
There are no approved quotes yet for this movie.