Fresh
(1994)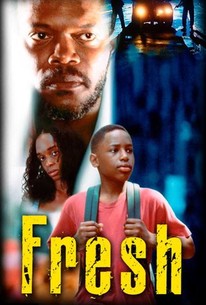 TOMATOMETER
AUDIENCE SCORE
Critic Consensus: Well cast and sharply directed, Fresh serves as an attention-getting calling card for writer-director Boaz Yakin as well as a gripping urban drama.
Movie Info
A bright young African-American boy attempts to survive life in the city by acting as an errand boy for a drug dealer in this thoughtful, sharply plotted drama. Known as Fresh, the young man must use his delivery jobs to support himself and his troubled sister, receiving nothing from his distant, alcoholic father but the occasional chess lesson. His intelligence and quiet determination serve him well, as he wins the trust of his employer and settles into an unpleasant but survivable routine. Even this small comfort disappears, however, when Fresh accidentally witnesses the killing of a classmate and becomes a potential target himself. Forced into an impossible situation, he puts his experience and strategic ability to good use, developing a tricky plan to protect his own life and defeat the killers. First-time director Boaz Yakin emphasizes restraint and realism, presenting potentially sensationalistic material with a minimum of violence and flash. Instead, attention is placed on the strong, layered performances, particularly Sean Nelson as Fresh and Samuel L. Jackson as his embittered father. While some have questioned the film's treatment of inner city life, the film was generally acclaimed, thanks to its seriousness and complexity.
News & Interviews for Fresh
Audience Reviews for Fresh
Corky: Only reason you ain't the man is you still too goddamn little, but, when you get bigger, you gonna be the man. "Risking it all, he invents new rules... to beat the odds in a deadly game of survival." Fresh is a solid, ghetto drama about a young 12 year old boy who runs drugs to support himself, but loses out on any sort of a real childhood in the process. The movie isn't perfect, with moments of shaky writing and shakier acting by some, but for the most part it's well acted and well written. It's nothing necessarily new, with a ghetto crime backdrop, but the character of Fresh is a fresh and well rounded enough character to make us feel like we're watching this type of movie for the first time.  Fresh has a lot of problems, especially considering he is only eight years old. His mothers gone and we can only assume dead. His father is an alcoholic, who he only sees in the park to play chess. His sister has left his aunts house and is a dope fiend who shacks up with whatever dealer she can. He runs drugs for local dealers to make money so that one day he can escape the ghetto, but the question is will he be able to escape the violence of the job he does in time? Sean Nelson really is brilliant as Fresh. He exudes a maturity and adulthood presence into a character that is years beyond his age. The rest of the cast is nothing too special, but they aren't too bad, for the most part, either. Samuel L. Jackson is easily the biggest name in this and he has a small, but nonetheless important role as Fresh's absent and alcoholic father. Fresh could just be considered another urban drama about the life of the street, but it does manage to be better than that. It's a movie that's well worth a look and may possibly be one of the better movies of this type out there. If you're a fan of the genre, it's definitely a can't miss film.
Melvin White
Super Reviewer
Samuel L. Jackson wasn't his usual over the top self. Instead he brings a great performance to a small role.
James Alvarez
Super Reviewer
½
I loved this film as a teen. Yet I think I would get slightly bored today, because its a one of story and doesn't really narrate into anything contemporary.
Alexander Wilson
Super Reviewer
Fresh Quotes
| | |
| --- | --- |
| Jake: | I'm gonna grease this motherfucker like Sunday bacon! I'm gonna drop him! I'm gonna go drop him! |