Frida
(2002)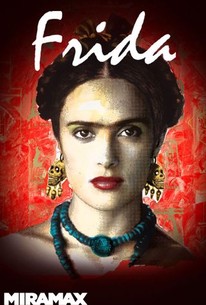 Movie Info
After being attached to a number of actors, directors, and producers, this long-gestating biography of one of Mexico's most prominent, iconoclastic painters reaches the screen under the guiding hand of producer/star Salma Hayek. Hayek ages some 30 years onscreen as she charts Frida Kahlo's life from feisty schoolgirl to Diego Rivera protégée to world-renowned artist in her own right. Frida details Kahlo's affluent upbringing in Mexico City, and her nurturing relationship with her traditional mother (Patricia Reyes Spindola) and philosophical father (Roger Rees). Having already suffered the crippling effects of polio, Kahlo sustains further injuries when a city bus accident nearly ends her life. But in her bed-ridden state, the young artist produces dozens upon dozens of pieces; when she recovers, she presents them to the legendary -- and legendarily temperamental -- Rivera (Alfred Molina), who takes her under his wing as an artist, a political revolutionary, and, inevitably, a lover. But their relationship is fraught with trouble, as the philandering Rivera traverses the globe painting murals, and Kahlo languishes in obscurity, longing to make her mark on her own. Frida was directed by Julie Taymor, whose Broadway production of The Lion King won her international acclaim. ~ Michael Hastings, Rovi
News & Interviews for Frida
Audience Reviews for Frida
Visually brilliant biopic about an original directed by an original. Love, love, love.
Jennifer Xu
Super Reviewer
½
A feast for the eyes...a famine for the ears. This films moments of immense beauty are almost overshadowed by the mediocre acting. While Salma Hayek certainly looks the part, there is a certain shallowness to her acting abilities that really did not do the character justice. And Ashley Judd's performance (though mercifully brief) is just painful to watch and hear. I did learn a lot about Firda's life and with that insight gained a greater appreciation for her work, but what could have been an AMAZING film with a more solid lead...ended up feeling just like a beautifully filmed vanity piece.
I never much cared for Kahlo's work. Still don't. But it made me respect the woman more. After this I can see how well suited this was for Taymor's directing style. The visual effects that worked for her here were very similar in Across the Universe. Outstanding acting and beautiful cinematography. Probably one of my favorite biopics. (Much better than Evita...)
Jennifer D
Super Reviewer
Frida Quotes
There are no approved quotes yet for this movie.