Friday the 13th, Part V - A New Beginning
(1985)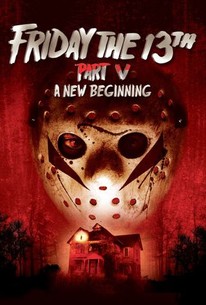 Friday the 13th, Part V - A New Beginning Photos
Movie Info
The murderous spirit of Jason Vorhees lives on in this horror sequel, although the plot hinges on the mystery of whether the killer's body actually survives. Opening with a nightmare prologue in which Corey Feldman reprises his role as Tommy Jarvis, the boy who killed Jason in the previous installment, the film jumps forward several years to when a teenaged Tommy (John Shepherd), haunted by visions of Jason returning to life, moves into a group home for mentally disturbed kids. Almost as soon as he arrives, Tommy witnesses the death of Joey (Dominick Brascia), an overweight, annoying boy who is hacked to death by psychopathic patient Vic (Mark Venturini). Although Vic ends up safely behind bars, other bodies begin to turn up -- more than 20 by the end of the film. Tommy's own violent streak, displayed when he lashes out at a fellow resident, makes him a suspect; he even doubts his own sanity. But as the bloodshed continues, Tommy finds himself allied with Reggie (Shavar Ross), the grandson of one of the home's employees, in a desperate bid to survive the carnage and find out who the killer behind the hockey mask really is. The producers of the Friday the 13th series actually planned to end it with Friday the 13th -- The Final Chapter, but the box-office success of that film paved the way for the series to continue. ~ Brian J. Dillard, Rovi
News & Interviews for Friday the 13th, Part V - A New Beginning
Critic Reviews for Friday the 13th, Part V - A New Beginning
Audience Reviews for Friday the 13th, Part V - A New Beginning
Of course they wouldn't just kill the golden goose, so they naturally had to came up with a sorry excuse for a "new beginning," but it is not even fun to watch when everything (and everyone) is so extremely irritating, the script is pure garbage and the dialogue is awful beyond belief.
Carlos Magalhães
Super Reviewer
This movie has annoyed me off since I was a kid. Followers of this series and viewers of the film were victimized by the old, bait-and-switch. Aspiring storytellers should be advised against the bait-and-switch, it will only alienates the audience. That, and they're never as clever as the writer thinks they are. Anyway, everyone thought that Tommy Jarvis would take over as the slasher after Jason's demise. Instead, the killer was Roy, the paramedic. Roy, the paramedic? Who? Exactly. Aside from this asinine swerve in the plot, this is about as uninspired and poorly constructed as the series gets. It feels like a generic rip off of a Friday the 13th. Then again, it's not a Jason movie, it's a Roy the Paramedic movie. Avoid.
Jason Calvin
Super Reviewer
I've gone round and round with my feelings about Friday the 13th Part 5: A New Beginning. I've never hated it for it being all a ruse and not featuring Jason at all. I actually always felt that that was a little more interesting and brought something new to the mix. The truth is that it's just not a great horror film, and doesn't really resemble one. What I've gradually come to realize is that it's nothing more than a black comedy, and an unintentional one... I think. To be fair, this film could've been left out of the series altogether and the story wouldn't have changed that much, but I find it too enjoyable to ignore it. Even though I burst out laughing at certain scenes and moments in the films in this series, this one really is, beat for beat, a comedy, and it makes me laugh pretty hard. As a horror film, it's bumblingly terrible, uninteresting, horribly shot, shodily edited and contains story & dialogue that are just egregious on all possible levels. It's very much the black sheep of the franchise, just like how Halloween III: Season of the Witch was to the Halloween series. The big difference between the two is that even though Halloween III had nothing to do with the franchise who's moniker it carried, it was actually a very solid movie. This movie isn't, but it winds up being very entertaining anyway. It's also interesting to note that the films were due to follow the storyline of Tommy Jarvis becoming the new Jason, but the nearly universal negative response caused the studio to bring Jason back. Thankfully, that change paid off and the best film of the series was soon to follow.
Tim Salmons
Super Reviewer
Friday the 13th, Part V - A New Beginning Quotes
| | |
| --- | --- |
| Demon: | Those Damn Enchiladas! |
| Demon: | Those damn enchiladas! |
| | |
| --- | --- |
| Anita: | (outside the toilet, singing to Demon) - Hey baby. Oooh baby. |
| Demon: | (singing while on the toilet) - Oooh baby. Hey baby... |
| Demon: | (singing while on the toilet) - Oooh baby. Hey baby. |
| Anita: | (outside the toilet, singing back to Demon) - Hey baby. Oooh baby. |
| Demon: | (singing while on the toilet) - Ooooh baby, hey baby. Ooooh baby, hey baby... |
| Demon: | (singing while on the toilet) - Ooooh baby, hey baby. Ooooh baby, hey baby. |