Friday the 13th, Part VI - Jason Lives
(1986)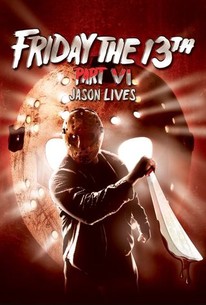 Friday the 13th, Part VI - Jason Lives Videos
Friday the 13th, Part VI - Jason Lives Photos
Movie Info
This impressive entry in the popular horror series brings back the relentless killer Jason Voorhees, this time as a supernatural zombie. Tommy Jarvis, now played by Thom Matthews, accidentally resurrects Jason when he impales the killer's corpse with a metal pole during a lightning storm. Numerous murders follow, beginning with Tommy's friend (Ron Palillo) having his heart torn out of his chest by the zombie killer. Implicated in the crimes by a mean-spirited sheriff (David Kagen), Tommy is freed from jail by the sheriff's daughter, spunky Megan (Jennifer Cooke). The cast converges on Camp Crystal Lake, which has been renamed "Camp Forest Green" by superstitious locals, in time for Tommy to send Jason back to the bottom of the lake, if only temporarily. Harry Manfredini's score is among his best, and the makeup by Martin Becker, Gabe Bartalos, R. Chris Biggs, and others is outstanding. Cooke makes an appealing heroine as Megan, although Matthews' Tommy has lost the interesting mental disturbances of previous entries and becomes just another bland hero. Tom McLoughlin's direction is effective, and the film has a memorably funny supporting turn by Bob Larkin as a grumpy drunken caretaker. Alice Cooper sings the title song, "He's Back (The Man Behind the Mask)." Although no classic, this is a solid horror film with a witty script and engaging characters. Jason would rise again to face a telekinetic teen in the disappointing Friday the 13th, Part VII: The New Blood. ~ Robert Firsching, Rovi
Critic Reviews for Friday the 13th, Part VI - Jason Lives
Audience Reviews for Friday the 13th, Part VI - Jason Lives
½
It took five crappy movies before someone finally realized that the only way to extract any fun from this worn-out formula would be to make it explicitly campy, and so this is the best chapter of the series, with a hilarious metahumor, witty dialogue and even good performances.
Carlos Magalhães
Super Reviewer
This film is, by far, my favorite entry in the entire series. In the film Jason is resurrected. The result is the best version of Jason that was ever created. This is the introduction of the super-human, methodical zombie version of the character. It's a pleasure watching Jason slaughter a cast of watchable victims, with purpose. The other welcome addition, was the warped, and intended, sense of humor. The comedy worked here, because even without it, the series was already becoming a parody of itself. Normally, I dock these movies for the lack of continuity, but this one gains points for disregarding the wretched "A New Beginning". This is the most fun you'll have watching Friday the 13th.
Jason Calvin
Super Reviewer
And now we come to my favorite film in the series just for the pure entertainment of it: Friday the 13th Part 6 - Jason Lives. This is the sequel that should have happened instead of the one that came before it really. Instead of sticking to the previous Friday formula, director Tom McLoughlin decided to completely rework the formula and not just make it satisfying to the fans of the franchise, but also entertaining and even humorous for newcomers. It puts a cap on the quality of the series while at the same time honoring horror films of the past with visual and story references abound, including the electrifying rebirth of Jason ALA Frankenstein. This was also the film wherein Jason first became the superhuman zombie that he is best known for. There is nothing human left about him and he can take the same amount of punishment that he dishes out. The film is also a step in quality in a lot of different categories. The performances are fantastic, the script is dynamite and the film is endlessly well-shot & edited. Henry Manfredini even comes up with a new type of Friday score that reflects the changes that have come with the new formula. Of all the sequels, I can watch this one over and over again because of how entertaining it is. It's too bad the series couldn't keep up this kind of quality for the rest of the sequels that would follow, try as they might. Part 2 may be the most well-made entry but Part 6 is certainly the most enjoyable.
Tim Salmons
Super Reviewer
Friday the 13th, Part VI - Jason Lives Quotes
| | |
| --- | --- |
| Dep. Rick Cologne: | Hey, HEY, get your hands off her animal! You little turd! I oughtta slap you silly!!! |
| Dep. Rick Cologne: | Hey, HEY, get your hands off her animal! You little turd! I oughtta slap you silly! |
| | |
| --- | --- |
| Cort: | Nikki there's someone out there...What if its that guy Jason? |
| Nikki: | Well happened to the cord? |
| Cort: | I don't know but unless you want to look exactly like it I say we make this place a memory right now! |
| | |
| --- | --- |
| Lizbeth: | I've seen enough horror movies to know any weirdo wearing a mask is never friendly. |
| | |
| --- | --- |
| Cort: | (while driving the van; hears a ruckus in the back) - Hey Nikki, what are ya doin' back there? Taking a dump? Ha-ha! |