Friday the 13th Part VIII - Jason Takes Manhattan
(1989)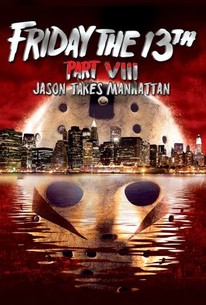 Friday the 13th Part VIII - Jason Takes Manhattan Photos
Movie Info
The worst in a string of increasingly pointless sequels to Sean S. Cunningham's crude slasher hit, this installment provided clear evidence that the "slasher" subgenre, already creatively dead, was no longer financially viable. This time around, unstoppable supernatural thug Jason Voorhees -- imprisoned at the bottom of a lake by his telekinetic foe Tina in the previous film -- is reanimated yet again after being goosed by an underwater electrical cable, freeing him to stow away aboard a shipload of standard-issue obnoxious teenagers en route to Manhattan. The title ultimately proves a bit of a cheat, since the majority of Jason's homicidal hijinks take place aboard the ship until the film's final reel, during which he pursues a handful of survivors through the streets of the Big Apple. Thanks to heavy MPAA cuts, the mayhem is more subdued here than in any other films of the series -- splatter fans primed by the previous chapters' copious bloodletting will be left high and dry. Despite a very amusing "teaser" trailer that suggested that the film might be a semi-parody, writer/director Rob Hedden and company play things tediously straight. ~ Cavett Binion, Rovi
News & Interviews for Friday the 13th Part VIII - Jason Takes Manhattan
Critic Reviews for Friday the 13th Part VIII - Jason Takes Manhattan
Audience Reviews for Friday the 13th Part VIII - Jason Takes Manhattan
After over one hour, Jason finally arrives in Manhattan but doesn't take shit, only making this another dull and miserably awful sequel that feels like an eternity, with uninspired deaths, a bizarrely schizophrenic protagonist and a ludicrous plot even worse than the last.
Carlos Magalhães
Super Reviewer
½
I think I would change that to Manhattan Takes on Jason. The attitudes of the bystanders to Jason and the teenagers was my favorite part of this movie. The main girl was like, "Call the police, a mad man is after us!", New Yorker: "Welcome to New York. Anyway, as you can tell this was a silly movie. The majority of the film doesn't even take place in NY. It takes place on a boat headed there from somewhere near Camp Crystal Lake. Jason's body was at the bottom of the lake, the anchor of a boat 'accidentally' hits an electricity line and then his body, electrocuting his body which somehow brings him back to life without also electrocuting the boat. Then he goes on his usual slasher journey on the boat, conveniently filled with high school grads. This was the least believable of all the situations in the entire series, in my opinion. There were also very little special effects in the scenes where he kills his victims. So it wasn't very fun to watch. To top it all off, it's longer than the previous movies. If you're going to watch this series, you can skip this one.
½
Regarded by most as the worst of the series, Friday the 13th Part 8: Jason Takes Manhattan is far from the worst. Storywise and in title maybe, I'll give you that, but this film is much more well-made and more interesting than the entry before it. The supreme letdown of the film taking place in New York City for only the last 30 mins or so of the movie killed this movie's chances as it let all expectations of it down, and most wrote it off as nothing more than a marketing gimmick to get people in to see it. However in retrospect, I find it a bit more polished than most people are willing to give it credit for. It has some great gags and is genuinely creepy at times, even with a teleporting Jason (when did he learn to do that?). With a different subtitle and a different marketing campaign, this movie might have fared a bit better than it did. I can't praise it too highly though, because some of the story elements are a bit tedious. Again, we have a heroine lead with mind powers. They're not as prevalent as the previous film and there isn't really any telekinesis in use, but it does feel like it's drawing from the same well. The notion that she was almost drowned by Jason as a child and she has had a psychosis about it ever since which causes her to have visions of a young Jason crying for help was never really resolved the way it should have been. Besides, we later learn that Jason wasn't the one who caused the problem in the first place, so it feels shoehorned in rather than natural in the storytelling. The film also came under heavy scrutiny by the MPAA, so it's not as gory or violent as you might expect it to be. It takes place mostly on a cruise ship, but they change things up as the whole group is made aware of Jason early on, with the group taking him on (failing one by one, of course). It's nice that they switched it up for a change instead of just more camp murder hijinks. Maybe that's why I like it so much; that they tried to genuinely do something different with it. If you watch all of the films in a row, it shakes things up and keeps you interested. I'm not saying it's a great, but it is a bit underrated. It's also the last of the Paramount series, as well as the last film of the franchise (as of this writing) to show any kind of creativity or fun. From here on in, it's nothing but recycled idea after recycled idea.
Tim Salmons
Super Reviewer
Friday the 13th Part VIII - Jason Takes Manhattan Quotes
| | |
| --- | --- |
| Julius Gaw: | Go ahead. Take your best show, motherfucker. |
| | |
| --- | --- |
| Tamara Mason: | Julius is the only senior I would even consider doing it with. |
| | |
| --- | --- |
| Julius Gaw: | I say we regroup, and find this motherfu*ker before he finds us. Now who's with me? |
| Charles McCullough: | Watch your mouth, young man! And you'll do no such thing. I'M in charge here! |
| Julius Gaw: | School...IS OUT, McCulloch! Okay? |
| Julius Gaw: | School is out, McCulloch! Okay? |
| | |
| --- | --- |
| J.J.: | (about Tamera) - She is a user. |
| Wayne Webber: | She's sexy. |