Fried Green Tomatoes
(1991)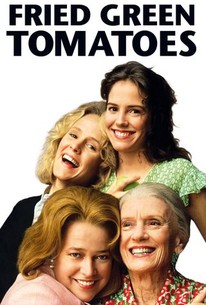 TOMATOMETER
AUDIENCE SCORE
Critic Consensus: Fried Green Tomatoes' tearjerking drama is undeniably manipulative, but in the hands of a skilled cast that includes Jessica Tandy and Kathy Bates, it's also powerfully effective.
Fried Green Tomatoes Videos
Fried Green Tomatoes Photos
Movie Info
A woman learns the value of friendship as she hears the story of two women and how their friendship shaped their lives in this warm comedy-drama. Evelyn Couch (Kathy Bates) is an emotionally repressed housewife with a habit of drowning her sorrows in candy bars. Her husband Ed (Gailard Sartain) barely acknowledges her existence, and while he visits his aunt at a nursing home every week, Evelyn is not permitted to come into the room because the old women doesn't like her. One week, while waiting out Ed's visit, Evelyn meets Ninny Threadgoode (Jessica Tandy), a frail but feisty old woman who lives at the same nursing home and loves to tell stories. Over the span of several weeks, she spins a whopper about one of her relatives, Idgie (Mary Stuart Masterson). Back in the 1920s, Idgie was a sweet but fiercely independent woman with her own way of doing things who ran the town diner in Whistle Stop, Alabama. Idgie was very close to her brother Buddy (Chris O'Donnell), and when he died, she wouldn't talk to anyone except Buddy's girl, Ruth Jamison (Mary-Louise Parker). Idgie gave Ruth a job at the cafe after she left her abusive husband, Frank Bennett (Nick Searcy). Between her habit of standing up for herself, standing up to Frank, and serving food to Black people out the back of the diner, Idgie raised the ire of the less tolerant citizens of Whistle Stop, and when Frank mysteriously disappeared, many locals suspected that Idgie, Ruth, and their friends may have been responsible. Evelyn finds herself looking forward to her weekly visits with Ninny, and is inspired by her story to take a new pride in herself and assert her independence from Ed. Fried Green Tomatoes was based on the novel Fried Green Tomatoes at the Whistle Stop Cafe by actress-turned-author Fannie Flagg, who makes a cameo appearance as the leader of a self-help group. ~ Mark Deming, Rovi
Critic Reviews for Fried Green Tomatoes
Audience Reviews for Fried Green Tomatoes
Excellent movie about friendship and love. Kathy Bates' character befriends an old woman who tells stories of her past.
Candy Rose
Super Reviewer
½
Always love a good southern movie, and well done coming of age drama
Jason Owens
Super Reviewer
A bittersweet story about how the Whistle Stop Cafe brought together Idgie Threadgoode, Ruth Jamison & many others & a story to be told by Ninny Threadgoode to a southern woman, Evelyn Couch.
Cassie Hill
Super Reviewer
Fried Green Tomatoes Quotes
| | |
| --- | --- |
| Judge: | Percy, it don't look like you got a case at all. In the first place, there's no body. Second, we got us a preacher that nobody's gonna dispute... |
| Prosecutor: | But your honor... |
| Judge: | I'm tellin' you, what you got is a whole lotta nothin'. I say that Frank Bennett got himself drunk, drove into the river and was long ago eaten up and I don't give a goddamn! What we got us here is a case of accidental death. Case dismissed. |
| | |
| --- | --- |
| Evelyn Couch: | I never get mad, Miss Threadgoode, never, the way I was raised, it was bad manners. Well, I got mad, and it felt great. I felt like could just beat the shit out of all those punks! Excuse my language. And then when I finish with all those punks, I'll take on all the wife beaters like Frank Bennett, machine gun their genitals, (imitates machine gun) eh-he-he-he-he-he! |
| Evelyn Couch: | (laughs) |
| Evelyn Couch: | Towanda will go on a rampage, I'll slip some tiny bombs into Penthouse and Playboys so they explode when you open them. I'll ban all fashion models who weigh under one-hundred-thirty pounds! And I'll give half the military budget to the people over sixty five and declare wrinkles sexually desirable. |
| | |
| --- | --- |
| Idgie Threadgoode: | One time, there was this lake, (pause) and uh, it was right outside of town. We used to go fishin' and swimmin' and canoein' in it, and uh (sniffle) this one November this flock of ducks came in and landed on that lake, and uh the temperature dropped so fast that the lake froze right there and then the ducks, they flew off ya see (voice breaking) and took the lake with them (small sob) and uh, now they say that lake is over in Georgia... (quite) imagine that. |
| Idgie Threadgoode: | (walks over to Ruth) (sobs and starts to cry) |
| | |
| --- | --- |
| Idgie Threadgoode: | There's so many (voice breaking) things I wanna say to you. |
| Ruth Jamison: | No, I love your stories. Tell me a story, Idgie. |