Friend Request
(2017)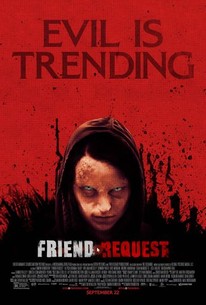 TOMATOMETER
AUDIENCE SCORE
Critic Consensus: Friend Request's attempts to update old-school teen horror for the digital age do not, sadly, include memorable characters, fresh scares, or novel storytelling twists.
Movie Info
Laura, a popular college girl, is very active on social media and shares almost everything in her life with her 800+ friends on Facebook. However after accepting a friend request from an unknown girl named Marina, Laura becomes obsessed with Marina's profile, and soon her friends begin to die violently one by one.
News & Interviews for Friend Request
Critic Reviews for Friend Request
Audience Reviews for Friend Request
½
Can you believe that it's been a little over three weeks since I last reviewed a horror movie??? The movie in question being Patchwork and some would even disqualify that given that it's a comedy. I don't, but if we're talking only 'serious' horror movies only, then you have to go back a couple of days prior to that to Before I Wake. I don't really count the last Tremors movie, which I reviewed a couple of days ago. That's almost a month without my beloved horror movies. What is wrong with me??? Seriously though, it just wasn't a good month and that's why a good chunk of the movies I reviewed ended up being comedies. There's obviously still some more serious movies here and there but, for the most part, I stuck with lighter movies to cheer me up, even if they may not have ended up being great films. Having said that, barring some sort of uncontrollable incident (like another fucking hurricane), I don't plan to stay away from horror movies this long again, damnit! But, sadly, this is the movie that I choose to come back to from that little 'hiatus'. I get the whole concept, of course, and I don't know if I'd say I like it, but it's a concept that's relevant in today's day and age with social media, seemingly, taking over young people's lives. Here I am, talking like I'm some old fucker when I just turned 30 like three months ago. As far as social media is concerned, I'm not obsessed with it. I'm not on Twitter and/or Facebook 24/7. I have other shit I have to do to be preoccupied with what's going on social media. But I, of course, use it like most people my age. And I can see how someone might become obsessed with the idea of social media, having lots of friends on Facebook and followers on Instagram/Twitter. It's a new for of popularity. There's a reason why you see a bunch of people doing these stupid internet challenges. They want to be popular, they want the views, the likes, the shares, etc, etc. I feel that this movie could have certainly touched on that obsession with social media in a way that wouldn't necessarily have been fresh and exciting, but it could have been an interesting perspective regardless. Like Laura's obsession with maintaining a pristine Facebook profile being thrown into disarray when she befriends a strange girl that, seemingly, has no one in her life. Of course, this means making Laura into an unlikable character. But, realistically speaking, there's nothing to Laura as a character, so her being a bitch to Marina for, essentially, reaching out and trying to find a friend would have been better than what we did get. I mean, there's still SOME of that here, but I don't think Laura is as obsessed with keeping her social media pristine as much as she should be. There'd at least be a kernel of truth in that, since I'm sure plenty of people don't want a certain kind of person watching their every post on social media. Marina is that person for Laura. But it shouldn't have been that Marina is a creepy girl who, quickly, becomes obsessed with Laura for being nice to her. It should have been the other way around. Marina is clearly depressed, but it would have worked better if Laura valued her social media more than Marina's friendship and/or life, even. That would have been, at least, somewhat cool. The whole thing with social media is really just a plot device. It's really not as relevant as you think it would be. The idea of Marina's revenge seems to be to erode Laura's friends' list on Facebook (even though it's never mentioned by name) so she can know how lonely Marina felt, when she was alive at least. But the only thing you get to see is her friend count go down every couple of scenes as her friends keep dying and Laura "shares" the videos of their deaths on her profile. The whole social media thing is a way to appear to be modern and relevant with today's digital age, where we rely more on electronic devices than ever before. And that's fine, but that modernity is only skin deep, since there's nothing underneath the surface that you haven't seen done better elsewhere, like Unfriended. In fact, this is like Unfriended and Final Destination had a baby and that baby ended up being this sad excuse for a movie. Perhaps that's a little harsh to say, but there's really nothing to this movie that warrants recommendation. One of the other major problems I had with the movie is this whole subplot of Marina doing some sort of scrying ritual in order to get her revenge by becoming some sort of malevolent spirit after her death. The thing is that then the movie becomes Laura's journey to find out Marina's origin and why she would do this ritual. And, honestly, that sort of dilutes everything the movie is trying to be. Can't it just be a straightforward, she killed herself and now she's haunting the person who wronged her? Does it have to be this whole exploration of who Marina was, her origins and why she's been lonely her entire life. I suppose the idea is to give you some context into why Marina acts the way she did when Laura was nice to her. But, quite frankly, I just didn't care. Stick to one or the other, don't do the social media commentary on top of a straightforward horror narrative. One negates the other. On top of that, the horror itself is really lackluster, to say the least. They do use some jump scares, and they're lazy as could be expected, but other than a few jump scares here and there, there's literally nothing to the movie as far as horror is concerned. It's just your typical, basic stuff. You've seen it before and this movie, certainly, doesn't excel at building an atmosphere of dread surrounding the events that are happening. People die and that's it. The lack of memorable, or even interesting, characters mean that this, really, is just torture porn. As much as some people hate that term, I feel that it applies here, in that the characters are given no personalities so that you, either, celebrate their deaths or you're indifferent to them. In here, it's more the latter than the former. Now that I said that, however, it should be noted that even if this was meant to be torture porn, it's not like that aspect of the film is any good either. The deaths lack any sort of gravitas. Thought that could be more the lack of character development than the deaths themselves, but, and this bears repeating, you're sort of indifferent to everything that you're seeing. As far as horror movies are concerned, I've certainly seen worse. But that should be no reason to give this film a pass. I think it's a little better than the rating implies, but two stars is more than I'm comfortable giving this. I can't recommend this in the slightest, even if you're related to the cast and crew. I don't plan on waiting more than three weeks before my next horror movie, but I sure hope the next one is better than this.
Jesse Ortega
Super Reviewer
Friend Request is a ridiculously dumb horror bait that somehow manages to make Unfriended look as if it could easily be converted to become the best high-quality game on the Nintendo Switch. By that, I mean this dumb horror bait-to-the-eye makes Unfriended, another similar horror bait, look as if it could easily earn a ten out of ten just by watching it. That's literally saying too much especially if I'm comparing a dumb horror bait with another similar premise.
EpicLadySponge the Adventurer
Super Reviewer
½
I hope this isn't a portent of Alycia Debnam-Carey's future career.
Friend Request Quotes
There are no approved quotes yet for this movie.