Friendly Persuasion
(1956)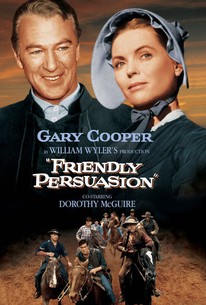 Friendly Persuasion Photos
Movie Info
Adapted from the best-selling novel by Jessamyn West, Friendly Persuasion is set in Southern Indiana in the early days of the Civil War. Gary Cooper plays Jess Birdwell, patriarch of a Quaker family which does not believe in warfare. Birdwell's son Josh (Anthony Perkins) wishes to adhere to his family's pacifism, but is afraid that if he doesn't sign up for military service, he'll prove to be a coward. Josh joins the Home Guard, which disturbs his mother Eliza (Dorothy McGuire). But Jess Birdwell realizes that his son must follow the dictates of his own conscience. Josh proves his courage to himself when he is wounded during a Rebel raid, while the elder Birdwell is able to stay faithful to his religious calling by not killing a Southern soldier when given both a chance and a good reason to do so. Allegedly, writer Jessamyn West nearly scotched her deal with producer/director William Wyler and distributor Allied Artists when Gary Cooper, taking his fans into consideration, insisted upon including a scene in which he forsakes his pacifism and takes arms against the Rebels. If true, then wiser heads prevailed, since no such scene exists in the final release print. Though uncredited due to his status as a blacklistee, Michael Wilson wrote the screenplay for Friendly Persuasion--and even won an Oscar nomination. Also nominated was the film's chart-busting theme song, "Thee I Love" (by Dmitri Tiomkin and Paul Francis Webster). The story was remade as a 2-hour TV pilot film in 1975.
Critic Reviews for Friendly Persuasion
Audience Reviews for Friendly Persuasion
Gary Cooper brings his usual dull self into a film about a righteous man who doesn't want to do battle during the Civil War. It likely would have been picked up a notch if a Gregory Peck had have been chosen. Instead we must endure.
John Ballantine
Super Reviewer
This movie is very predictable, and sometimes boring, but the drama is pretty intense, especially towards the end, and there are good actors in this movie too.
½
This film is about a family of Quakers who struggle with their beliefs during the Civil War. It's interesting to see how the Quakers lived and their religious beliefs. The film goes into great detail on this and you realize how horrible it would be to be a Quaker. At times the movie is too cute with too many rear projections(the CGI of the 50's) The acting is great (Cooper does his aw shucks character) and the story is a good one. The film gets real good when the war is in their back yard and they must choose between protecting themselves or follow their religion and do nothing.
cody franklin
Super Reviewer
Friendly Persuasion Quotes
There are no approved quotes yet for this movie.