Fright Night
(2011)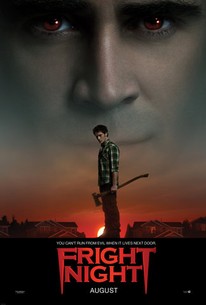 TOMATOMETER
AUDIENCE SCORE
Critic Consensus: It may not have been necessary to remake the 1985 cult classic, but the new Fright Night benefits from terrific performances by Colin Farrell and David Tennant -- and it's smart, funny, and stylishly gory to boot.
Movie Info
Senior Charlie Brewster (Anton Yelchin) finally has it all-he's running with the popular crowd and dating the hottest girl in high school. In fact, he's so cool he's even dissing his best friend Ed (Christopher Mintz-Plasse). But trouble arrives when an intriguing stranger Jerry (Colin Farrell) moves in next door. He seems like a great guy at first, but there's something not quite right-and everyone, including Charlie's mom (Toni Collette), doesn't notice. After witnessing some very unusual activity, Charlie comes to an unmistakable conclusion: Jerry is a vampire preying on his neighborhood. Unable to convince anyone that he's telling the truth, Charlie has to find a way to get rid of the monster himself in this revamp of the comedy-horror classic. -- (C) DreamWorks
News & Interviews for Fright Night
Critic Reviews for Fright Night
Audience Reviews for Fright Night
½
Less of a B-movie creature feature than the original was and more straight up vampire film, but nonetheless an entertaining and quite funny remake that benefits from a more fleshed out plot. I found Anton Yelchin much more likable than William Ragsdale as Charlie and David Tennant to be absolutely hysterical as Peter Vincent compared to the straight laced version of the character in the original film. Colin Farrell plays Jerry much more reserved than Chris Sarandon did, but it was actually a little more serious of a role this time around so it worked. I do think both versions of the character work in their respective movies. The special effects are still not quite up to standards of modern films, but it almost felt deliberate by the filmmakers to give it a little B-movie charm. Overall, I actually liked this version better than the original, but both have their pros and cons.
Josh Lewis
Super Reviewer
½
[img]http://images.rottentomatoes.com/images/user/icons/icon14.gif[/img] While at first glance I dreaded a remake of the 1980's cult classic "Fright Night" to the belief that it would turn out to be as dull and dissapointing as the rest of the new wave of pointless rehashes. That it would fail in all departments in living up to the original it possibly could. Due entirely to a lack of justification for it's very existence. It sort of does but sort of doesn't. But the fact of the matter is that the new Fright Night is surprisingly a very smart, very funny, very gory, fantastically entertaining horror comedy that gives you exactly what it is that you pay to see. Craig Gillespie was right to choose Colin Farrell as the menacing and silently blood thirsty bad guy. There's no exception in that all the performances are great and are arguably the most entertaining aspects of the film. Christopher Mintz-Plasse has fun with his usual shtick although lowers it down slightly in tone, as he recieves a role in which he can lash out angrily despite not reaching the comedic and scary heights of his brilliant role in Kick-Ass. David Tennant however, is the ultimate harbinger of tear dripping, laugh out loud hilarity. If it was up to me I would be casting him in every single upcoming horror comedy simply because he is an energetic master of comedy. He get's a very raunchy and sweary role in this and i'm glad that it happened. The gore, the main attraction besides the actors, is also very good. Overall, the film is not as blood soaked as I wanted it to be but it managed to make up for it with some impressive moments of genuine suspense and panic. It's also very stylistically filmed featuring some dark and murky yet beautiful cinematography. I'd say it's definitely directed with enough style to classify it as a cut above the usual horror flick production stable. However even as it manages to tick all the boxes for light hearted, single viewing entertainment it is still incredibly unremarkable. But that's not a bad thing at all, it could have been a lot worse. Again it's in one ear and out the other. But while it lasts, it's absolutely terrific fun.
Directors Cat
Super Reviewer
A solid remake. I would imagine someone other than Yelchin could have made a more appealing star, but he was adequate for the role. Farrell as the vampire nextdoor, "Jerry", was an interesting but enjoyable choice.
Christian C
Super Reviewer
Fright Night Quotes
| | |
| --- | --- |
| Peter Vincent: | I'm a great date. Get me drunk, and I'll try anything. |
| | |
| --- | --- |
| Peter Vincent: | Don't do anything I wouldn't do. That doesn't narrow it down. That's like, mini-golf and sushi. |
| | |
| --- | --- |
| Charlie's Mom: | Charley Brewster: You read way too much TWILIGHT. Evil Ed: That's fiction, okay. This is real. He's a real monster, and he's not brooding, or lovesick, or noble. He's the fucking shark from JAWS. He kills, he feeds, and he doesn't stop until everyone around him is dead. And I seriously am so angry you think I read TWILIGHT. |
| Charley Brewster: | Charley Brewster: You read way too much TWILIGHT. |
| Evil Ed: | That's fiction, okay. This is real. He's a real monster, and he's not brooding, or lovesick, or noble. He's the fucking shark from JAWS. He kills, he feeds, and he doesn't stop until everyone around him is dead. And I seriously am so angry you think I read TWILIGHT. |
| | |
| --- | --- |
| Charlie's Mom: | Ed: Can't get in without an invitation. Jerry: [steps in] I thought you did your homework. You've been watching me, I've been watching you. That's fair enough. |
| Ed: | Can't get in without an invitation. |
| Jerry: | [steps in] I thought you did your homework. You've been watching me, I've been watching you. That's fair enough. |