Frisco Kid
(1935)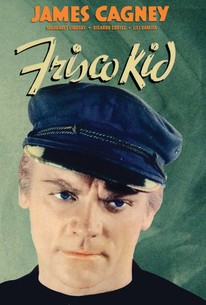 AUDIENCE SCORE
Critic Consensus: No consensus yet.
Movie Info
Clearly inspired by the success of Goldwyn's Barbary Coast, Warner Bros.' The Frisco Kid stars James Cagney as turn-of-the-century opportunist Bat Morgan. Heading to the gold fields of California, Bat is almost shanghaied in San Francisco but manages not only to escape his would-be captors but also to kill the infamous crime lord Shanghai Duck (Fred Kohler Sr.). The grateful citizens enable Bat to rise to wealth and power on the Barbary Coast. But he's less lucky in love, and it is his seemingly hopeless fascination with Nob Hill debutante Jean Barrat (Margaret Lindsay) that may well bring about Bat's downfall. The film is a festival of cliches, occasionally enlivened by barroom brawls and rowdy musical numbers. Featured as extras in Frisco Kid were several stars and directors of the silent era, a "generous" gesture made by Warner Bros. partly to stave off the inevitability of unionized actors.
Critic Reviews for Frisco Kid
All Critics (3) | Fresh (2) | Rotten (1)
The direction and writing of the film are hardly distinguished, but there are numerous able performances.
The Warner Bro. picture is tougher and richer than Barbary Coast, as the sophisticated veneer which Hecht-MacArthur spread over the Goldwyn epic scarcely suited the subject.
Frisco Kid, starring James Cagney, is one remove from being an effective and original story; the one remove being Barbary Coast, which had used up practically all the dramatic material in advance.
Audience Reviews for Frisco Kid
Cagney is dynamic as ever but those two cinematic black holes Margaret Lindsay and Donald Woods stop the film dead in its tracks whenever they appear in a scene.
Frisco Kid Quotes
There are no approved quotes yet for this movie.