Frogs
(1972)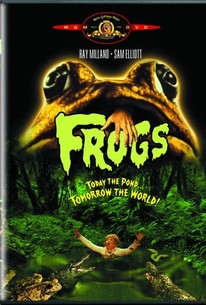 Movie Info
In retaliation for the rich owner's environmental misdeeds, a Florida mansion is laid siege on all sides by swampland frogs. This dopey horror flick is one of the first to use the environmentally active angle.
Audience Reviews for Frogs
More often than not, there are several obscured horror gems that have been long since forgotten and in the case of Frogs, that's very much the case. There has been several movies featuring killer creatures and it spawned an entire genre of horror commonly known as Nature gone wild. As cheesy as this film is, there is a tense atmosphere that lingers over the movie and it adds to the tone of the movie. Acting wise there are no standout performances, but the cast do a good job with a decent script. This is the type of film that is designed for pure mindless fun and in that respect, it does that very well. The film is flawed, but is pure fun from start to finish. If you love low budget horror flicks, then this is a must see movie. The plot is ridiculous, however it works due to the fact that these genre films tend to display in deadly ways that is sure to peak the interest of the viewer. Killer frogs, you ask? Well, how entertaining can it be or how amusing can a film like this be. The answer is, quite entertaining, if you're in the mood for some cheesy killer creature entertainment. One of the film's highpoints is the dark, ominous score by Les Baxter. Frogs is so bad it's good entertainment that should be seen by horror enthusiasts. If you're in the mood for a silly good time, give Frogs a viewing as it is among the most original killer creature films I've seen. Be warned however, this is not a film that will win any awards, but is sure going to entertain you if you enjoy these types of films. With a chilling atmosphere, Frogs is one of the most underrated films in the nature gone wild genre and it should be rediscovered by horror fans simply for its camp value.
½
Ok. Yeah, this one is bad, but it has some things going for it. For one, it has Ray Milland and Sam Elliott in it. Second, it has a sexy young Joan Van Ark wearing tight clothes and bikinis. Third, it has an animated frog at the end of the movie swallowing a person with a comic *gulp* sound (which is the reason to see the movie, in my opinion). So the movie's got a lot of comic value, as do most of American International's movies, but this one is slightly more enjoyable than the rest. Most are just unwatchable piles of crap. This one passes as watchable without being great.
Tim Salmons
Super Reviewer
A very heavy handed lesson about pollution. As with any nature takes revenge movie, the lizards and spiders and snakes kill people. For some reason the frogs in the movie just annoy people, they don't have any other means of getting revenge apparently. It's predictable, boring, and kinda stupid, especially the frogs.
Frogs Quotes
There are no approved quotes yet for this movie.