From Beyond
(1986)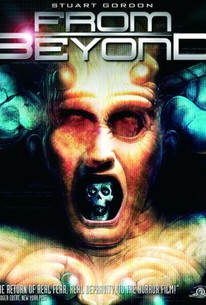 Movie Info
The production team responsible for the twisted cult classic Re-Animator -- including director Stuart Gordon and producer Brian Yuzna -- returned the following year with this equally depraved (perhaps more so) follow-up, based once again (and very loosely) on the pulp-horror fiction of H.P. Lovecraft. Also returning to the fray is Jeffrey Combs, here playing the mild-mannered Crawford Tillinghast, apprentice to the dangerously obsessed Dr. Pretorious (Ted Sorel) and co-inventor of an enigmatic and ominous-looking device known as "The Resonator" -- a machine designed to stimulate the vestigial sensory apparatus contained within the human pineal gland. Such stimulation allows participants to "see" the slimy creatures which occupy a dimension parallel to our own, but with some chilling side effects -- the first of which being that the interdimensional vision works both ways. When a powerful sentient force devours Pretorious and assumes his consciousness, Tillinghast panics and destroys the Resonator -- soon to find himself in a padded cell, accused of his mentor's murder. Called to the case are Dr. McMichaels (Barbara Crampton, another Re-Animator alum) and amiable cop Bubba Brownlee (Dawn of the Dead's Ken Foree), who escort Tillinghast back to the shattered laboratory in an attempt to corroborate his deranged account by re-creating the experiment. Their attempts are all too successful, and the Pretorious-thing emerges to take control of the reactivated Resonator and draw the others into its hideous realm. Also called forth are the participants' darkest sexual desires -- another interesting by-product of pineal stimulation -- and, in Tillinghast's case, an uncontrollable urge to devour human brains. Just when it seems it can't get any weirder...it does. Gordon explores this demented scenario with relish, allowing nearly every scene to go completely over the top into surreal mayhem while retaining the dark brooding sense of menace characteristic of Lovecraft's work. (It's not likely, however, that the author's dignified upbringing would have explored the psychosexual dimensions of the premise -- at least not in the kind of detail seen here.) All manners of perversities abound, accompanied by the wizardry of four dueling special-effects studios and the rich, creepy score by Richard H. Band, bringing the film to a literally explosive climax and a chillingly poetic final shot.
Critic Reviews for From Beyond
Audience Reviews for From Beyond
It grows tense and mysterious with excellent special effects and make-up while always holding our interest, but in the last half-hour it goes completely astray and over the top, losing its direction and becoming a hilarious mess with an insane climax.
Carlos Magalhães
Super Reviewer
½
A pair of mad scientists develop a device that activates the pineal gland, allowing them access to the "beyond." This is an obvious attempt by director Stuart Gordon to repeat the formula that worked so well in his debut, RE-ANIMATOR---R-rated update of an H.P. Lovecraft idea starring Jeffrey Combs and Barbara Crampton---but it lacks the black comedy, outrageousness and originality that made the early film a hit.
Stuart Gordon has made a terrific film with Re-Animator continues that streak with From Beyond, another film based on the works of H.P Lovecraft. The result is a highly entertaining film that delivers a unique viewing experience. Brilliantly acted by a cast comprising of some of the most memorable names in horror, this film definitely is a thrill from start to finish. This is a shocking, horrifying film with great gore effects that is sure to please the most die-hard gore hound. Stuart Gordon has always been a top-notch director in the genre and with From Beyond, he solidifies his reputation as one of the best directors in the genre. This is a well crafted Sci Fi horror film that has hints of the body horror genre. Stuart Gordon's understanding of the horror medium. The plot is terrific and there are some great performances by Ken Foree and Jeffrey Combs who make the film worth seeing. Stuart Gordon keeps the ball rolling with memorable gore effects that really stand out. This is a sick film that relies on gore and surrealism elements that add to the film's story. This is among the best of 80's horror. The film is also one of best films by Stuart Gordon who helmed Re-Animator and that's saying something. This is a riveting picture that is a bloody good time from start to finish. If you love Gordon's work on Re-Animator, then this film is for you. Brilliantly constructed, directed and acted, this is horror at its finest, and a film that shouldn't be passed up.