From Dusk Till Dawn 3: The Hangman's Daughter
(2000)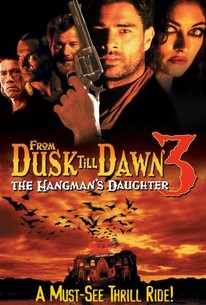 From Dusk Till Dawn 3: The Hangman's Daughter Photos
Movie Info
An outlaw who recently defied death by escaping his noose is on the run with his gang and the daughter of his intended executioner in this prequel to the 1996 series original, From Dusk Til Dawn.
Critic Reviews for From Dusk Till Dawn 3: The Hangman's Daughter
Audience Reviews for From Dusk Till Dawn 3: The Hangman's Daughter
Well here we are with the third film in this violent vampire horror franchise. After the second film which was so so you'd kinda expect this to be a real stinker, how could they continue with little budget and little star status?? Well third time is most definitely a charm here because this adventure swings right around and is back on track. What I really liked about the plot is firstly its a prequel (don't moan just yet) set in the sweaty wild west of Mexico and shows us an early 19th century 'Titty Twister'. We don't see how this location became a vampire hotspot or how all the inhabitants came to be undead blood suckers, this is merely another chapter within this universe. Trejo is back again as a supposedly younger 'Razor Charlie' but again we don't see how he became a vampire, but we now know he's clearly a very old neck biter. This whole idea actually works really well I think and fits into the mythology of the franchise perfectly. The other fact I liked was the clever use of a real person from history. Ambrose Pierce actually disappeared without a trace back in 1913 whilst travelling with rebel troops led by Pancho Villa during the Mexican revolution of 1910. Pierce was a very well known writer and journalist amongst other things but his vanishing put his name on the map. In this movie they have used Pierce as the main character in a team of survivors fighting the vampire hordes at a very dated Titty Twister. The idea being that in this universe Pierce's disappearance is down to him entering the vampires den which is unknown to the outside world...as we know. Now I do like this neat little spin on reality but for one thing (spoiler alert)...Pierce doesn't die in this film! He actually makes it out without as much as a scratch on him and carries on with his initial plans. So basically the director/writer kinda fudges up his cool plot premise, had Pierce died then it would have fitted nicely into reality because we would know he vanished from being killed at the Titty Twister. That being said I have read there is an alternative ending which does address this, haven't seen it though. Anyway the film goes down the same basic route as the first movie accept this time there are a few sub plots with different people that all cumulate in the Titty Twister. The main story is about a group of outlaws with a female hostage on the run from a posse of soldiers. Once we get through all the rather dull plots that lead up to everybody getting trapped in the Twister, things do perk up tremendously. Again I won't deny its simply a rehash of the first film but wow do they go for broke this time! If you thought the original had madcap splatter sequences of gore then wait till you see this! The battle between various soldiers outlaws civvies and the hooker vampires is chock full of guts limbs and neck slashing. I was really impressed with the level and quality of effects makeup and stunts during these fights, its right up there with Rodriguez's first offering. Admittedly its nothing we haven't seen before, you have a good idea of who's gonna get killed and the entire two for one movie concept surprise is obviously no longer a surprise. There is also a neat character tie in with the original film which is a small twist you don't see coming and Michael Parks returns again doing a solid job as Ambrose Pierce whilst having a slight Charlton Heston look going on. In the very end we get another cool pull back shot of the rear of the Twister showing us the sprawling Mayan temple that sits beneath. Its not quite as sharp as the first movies but its definitely a nice touch that brings everything full circle. You really do expect this to be utter dribble, especially at the start seeing the tacky looking title credits, but in the end its a very nice surprise with some really solid effects and makeup which I must give kudos to. Its better than the second film but the fact they have just rehashed the first film is a bit weak, at least the second film tried for something more original. I would definitely give both sequels a whirl if you like vampires and heavy splodging gore.
Phil Hubbs
Super Reviewer
½
Every horror sequel tries to improve on the original somehow, they try to do something totally new and fresh, something that hasn't been done before. Well for the third entry, they definitely tried something different alright. But the question is do they pull it off? Nope they don't, this film is an insult to the first film in the trilogy, and took n interesting idea and twisted it into something totally bland with no soul, and this ends up being a terrible film with nothing new to offer despite its new take set in 1800's. The idea was good, but the direction was poorly executed and thus this film never really does anything gbreat, and ends up being a terrible mediocre third entry in a tired outr series. The original didn't need sequel, it was a better stand alone film on it's own.
A prequel to Robert Rodriguez' great 1996's From Dusk Till Dawn is an entertaining, but pretty silly flick and nothing near the original, but a lot better than the earlier sequel From Dusk Till Dawn 2: Texas Blood Money. This movie is actually an acceptable prequel to the original. It is obvious that the whorehouse in the desert is the future 'Titty Twister', only almost a century earlier. Michael Parks plays the lead very good, Marco Leonardi and Tamuera Morrison are believable enough in their roles and Rebecca Gayheart and Ara Celi are eye candy. The cast furthermore contains Danny Trejo, who was in From Dusk Till Dawn sequels. The amount of violence and gore is once again pretty high, and keeps the viewer entertained.
Dean McKenna
Super Reviewer
From Dusk Till Dawn 3: The Hangman's Daughter Quotes
There are no approved quotes yet for this movie.