From Hell
(2001)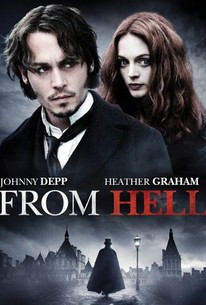 Movie Info
The true-life horror story of Jack the Ripper gets a new spin in this screen adaptation of the acclaimed graphic novel by Alan Moore and Eddie Campbell. In 1888, a ruthless and cold-blooded killer begins hunting prostitutes in East London, and while the murderer's work is savage, the mutilation of his victims suggests the fiend has an extensive medical background. Amidst a background of political unrest and barely contained scandal among the royal family, the murderer's grisly exploits shock and frighten all of England, and one of Scotland Yard's top inspectors, Fred Abberline (Johnny Depp), is put on the case, along with his partner, Peter Godley (Robbie Coltrane). Abberline, depending on one's viewpoint, is either blessed or cursed with second sight, and while he blurs his ability to see future events with opium and other drugs, he still has an uncanny ability to ferret out dangerous criminals, which is put to the test as he and Godley search for the Ripper. As Abberline and Godley investigate the neighborhood where the crimes occur, they become acquainted with the prostitutes and street people who were friends and compatriots of the victims, and Abberline finds himself falling in love with Mary Kelly (Heather Graham), a beautiful Irish streetwalker. As Abberline tries to identify the killer before Mary Kelly can become the next victim, he and Godley have to contend with Sir Charles Warren (Ian Richardson), their superior who is keen to pin the murders on a culprit who isn't British, and Sir William Gull (Ian Holm), a respected physician who has his own ideas about the murders and the benefits of psychosurgery. From Hell marked a change of pace for Albert Hughes and Allen Hughes, the sibling directorial team best known for their gritty depictions of America's urban underground in such films as Menace II Society and Dead Presidents. ~ Mark Deming, Rovi
Critic Reviews for From Hell
Audience Reviews for From Hell
½
Another story about jack the Ripper. I think it's a happy ending for everyone including Jack the Ripper. But not happy ending for the victim
UUd Irawan Yudha Ariyanto
Super Reviewer
½
In Victorian era London, troubled, absinthe addicted police detective Fred Abberline portrayed by Johnny Depp investigates gruesome murders in a slum known as Whitechapel. The victims are prostitutes who are easily targeted due to their lifestyle of walking the streets at night. Since the suspect known as "Jack the Ripper" was never caught, the story is quite fictionalized with the exception of Fred Abberline who was indeed an actual inspector in 1888 London and an authority on this particular series of murders. We've heard it all about "Jack the Ripper" from being a freemason to royalty, but since no one was ever arrested and tried, "Jack the Ripper" could be just about any twisted individual with superior knowledge of the human anatomy.
½
The most convulted, abysmal, and pathetic portrait you could muster under the stoyline's circumstances. Heather Graham's fake English accent almost made me scream.
Spencer S.
Super Reviewer
From Hell Quotes
There are no approved quotes yet for this movie.