From Mexico with Love
(2009)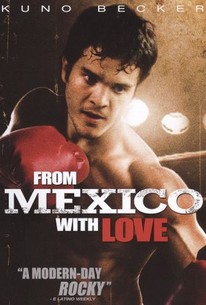 AUDIENCE SCORE
Critic Consensus: No consensus yet.
From Mexico with Love Photos
Movie Info
Jimmy Nickerson, fight coordinator on such films as Raging Bull and Rocky, takes the directorial reins for this tale of a self-destructive amateur boxer seeking to follow in his father's footsteps by making a name for himself in the ring. Hector Villa (Kuno Becker) may have the spirit of a winner, but his better judgment is consistently clouded by his anger. Though Hector picks fruit on the Texas ranch of Big Al Stevens during the daylight hours, nightfall finds the migrant laborer earning more than a day's pay by fighting for cash in local bars and converted barns. When Hector's mother, Rosa, falls ill, her loyal son takes as many fights as possible in order to pay for her expensive heart medication. But Big Al's son Robert is the undefeated champ of the local boxing scene, and when Big Al learns that Hector may be capable of delivering the blow that could dethrone his son, he has his henchmen beat Hector and leave him for dead in the Mexican desert. Now homeless and penniless on the desolate streets of Mexico, Hector is forced to literally fight for his life. When Hector learns that his mother has died, he seeks out local fighting legend Billy Jenkins in hopes that the grizzled former boxer and trainer will help him develop the skills needed to settle the score with Big Al and Robert. The man who once served as Robert's coach before learning that the unscrupulous young fighter was "on the juice," Billy knows that there is no way Hector could beat an opponent with such an unfair advantage. Upon learning that Big Al has accepted Hector's challenge to take on his son Robert thanks to the persuasive efforts of the migrant community, Hector and Billy begin training for the fight that could make or break Hector's future career in the ring.
Critic Reviews for From Mexico with Love
All Critics (3) | Top Critics (2) | Fresh (2) | Rotten (1)
There's scarcely a boxing-movie cliche left unrecycled by the end of From Mexico With Love, an inaptly titled and thoroughly predictable indie drama directed by vet stunt coordinator and fight choreographer Jimmy Nickerson.
October 15, 2009

Whatever its surface predictabilities, From Mexico With Love has the virtue of coaxing you to care about its people.
Audience Reviews for From Mexico with Love
Over the years, the story of the victimized illegal immigrant has been told countless times. The struggles and trials of a seemingly innocent people are always played out to manipulate an audience into feeling empathy toward their plight despite their getting themselves into it. From Mexico with Love is a story that is no different in what it depicts--and even less different in how it makes you feel. At times, there are nuggets of poignancy as we see the rise of a young farm worker in Texas; from mere seasonal picker to a bona fide boxing star (in his own right.) Overall, however, the plot lacks scope and ends up feeling too inwardly focused. What the film is trying to be is a mock-up of a Rocky sequel gone south of the border, but it ends up feeling like watching two kids playing boxers in their backyard. Other questions of morality and family values come to the surface. The ruthless American farm owner (stereotypical as the Mexicans portrayed in the film) aims to thwart the hopes and dreams of our little Ricky--eh, Rocky--character. Some insipid romantic antics are thrown in as a desperate attempt at inciting some sort of connection to the female audience; but that ends up feeling forced and, ultimately, ends up being unnecessary. If the tribulations of a people are to be taken seriously by outsiders who may already have a skewed opinion on the matter then movies like this one definitely do not help the cause. But, as far as entertainment goes, this movie meets the demands of an audience who may just be into seeing a pretty boy overcome obstacles and "better" himself. Through boxing. If the stereotypical glove fits...
Rico Zamora
Super Reviewer
From Mexico with Love Quotes
There are no approved quotes yet for this movie.