From Paris with Love
(2010)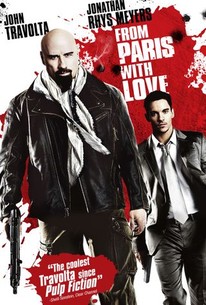 TOMATOMETER
AUDIENCE SCORE
Critic Consensus: Thought not without its charms -- chief among them John Travolta's endearingly over-the-top performance -- From Paris with Love is too muddled and disjointed to satisfy.
From Paris with Love Photos
Movie Info
This action film, directed by Pierre Morel (Taken), concerns young CIA agent James Reece (Jonathan Rhys-Meyers) who has a cushy day job but dreams of an exciting life in the field. When the agency offers him his first big-time assignment, James must team with crazed lone wolf Charlie Wax (John Travolta) to stop a terrorist bombing plot. Although James is initially in way over his head, he soon realizes that he needs to trust Charlie if he wants to live his dream and save his own life, because the bad guys not only want to cause damage to the city, but want James killed. ~ Perry Seibert, Rovi
News & Interviews for From Paris with Love
Critic Reviews for From Paris with Love
Audience Reviews for From Paris with Love
Entertaining but ultimately dumb action thriller with Travolta trying to be Mr. Cool once again. It works for some scenes but feels forced in others. It's just one of those action films that tries to tell a story set in the real world, but isn't really. Too many plot holes, inconsistencies and unbelievable character decisions make this a work of pulp, that shows little respect for the worth of a human life. That being said, the very bloody shootouts are well filmed and you never get bored, because it all happens rather fast. In the end you're wondering what all the fuzz was about, shrug and move on to entertainment with more content.
Wax: Welcome to Paris, baby. "Two agents. One city. No merci." From Paris with Love is a ridiculous,  moronic, gun toting, zero brain having action thriller. There's no originality to be had with this one. From start to finish it's a standard, all action movie; and thank God for that because when they stop long enough to speak is when it gets unwatchable. So I obviously hated the movie, right? Wrong. Come on... it may be stupid, it may be unoriginal, but it's 90 minutes of pure popcorn fun. Not all movies have to change the world. This one certainly didn't, but I enjoyed it nonetheless.  An American embassy worker in Paris gets pulled into a terrorist plot when he is told to pick up a special ops agent named Wax. The two run around Paris getting in shootouts, car chases, and anything else you can think of. Hell for half the movie, Jonathan Rhys Meyers is carrying a vase full of cocaine. It's not an intelligent thriller, but it makes up for it with knowing just how bad it is. Nobody involved here thought they were doing anything more than making a dumb action movie. When a film is aware of just how moronic it is, it almost makes up for it. The film also doesn't overstay its small welcome. When the film actually starts, it ends up running around an hour. The first half hour is just introductory bullshit. I even had fun watching that. There's definitely a certain satisfaction I got from watching Travolta be even crazier than normal. Plus, he has a nice little Royale with Cheese to remind everyone that he has starred in a smart action movie before. I always like a nice little allusion. Not good. I'll be the first to admit that, but if you are willing to throw your brain away for an hour and a half and just bask in the ridiculousness of everything that is this movie; you could potentially have a lot of fun. Actually, I just watched it for the second time, yet it felt like the first. Probably because I forgot the whole movie twenty minutes after watching it, which will probably happen again this time. It's a movie that will always feel like the first time.
Melvin White
Super Reviewer
½
So much action, yet so little to take away from it. It's a very average movie that has over-the-top, loud, and in-your-face action that never stimulates your senses whatsoever. At least John Travolta was somewhat funny. The lead character, James Reece who is played by Jonathan Rhys-Meyers, is the protagonist and his story is a story that we, somewhat, get invested into but it isn't something that we haven't seen from the past. There's an overload of over-the-top action that is so ridiculous but yet nothing stands out as a memorable set-piece. Everything, in the end, was for entertainment sake and did "From Paris With Love" succeed? Somewhat but it could've been much much better. Good thing that, with a movie like this that is blatantly trying to be over-the-top, the screenplay was good. John Travolta was funny for the most part... But did they really have to put in the Royale with cheese? My gosh. Just a gripe for me lol. "From Paris With Love" is entertaining as a whole package but the audience leaves with no substance whatsoever. Its noisy and the action so was sloppily put together that, in the end, never stimulates our action-hunger needs.
From Paris with Love Quotes
| | |
| --- | --- |
| Charlie Wax: | Checkmate, motherfucker! |
| | |
| --- | --- |
| Charlie Wax: | This motherfucker hates Americans so much, even though we saved his country's ass in not only one world war but two, he still won't let me through with my cans! |
| | |
| --- | --- |
| James Reece: | Sir, you do realize that I am not Special Ops certified, right? |