The Front
(1976)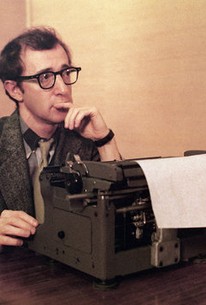 Movie Info
Martin Ritt's The Front is a black-comedy about the McCarthy hearings of the '50s and the subsequent Hollywood blacklisting. Woody Allen plays a bookmaker who become "a front" for a group of blacklisted Hollywood screenwriters who aren't able to get a job, because of their alleged communist ties. The Front was written by blacklisted Walter Bernstein and features performances from several blacklisted entertainers, including Herschel Bernardi, Joshua Shelley, Lloyd Gough, and Zero Mostel.
Critic Reviews for The Front
Audience Reviews for The Front
½
The Front stars Woody Allen (not written or directed by) as a front for blacklisted writers. I didn't find much funny with this movie, and often the story is bland. Woody Allens characters moral transitions, while important for the film, happened to quickly. He does have great chemistry with screen partner Zero Mostel though. The film really did win me over with the ending, and the charming credits. Shows the issues with blacklisting, and the industry during the red scare.
Daniel Dolgin
Super Reviewer
½
An effective dramedy that works as an indictment of McCarthyism and the use of blacklisting during the Red Scare. I wish the film had opted to focus more on the nuances of blacklisting, such as exploring the political motives of the committees, but instead it decided to focus more on Allen's character, which worked well, it just didn't help the film make the large statement it intended to make. At the same time, it did do a good job of showing the effects on those targeted, as well as the great ironies involved. 3.5/5 Stars
Jeffrey Meyers
Super Reviewer
½
The Front is a worthwhile but flat film that combines a Woody Allen comic persona with an earnest desire to educate modern audiences (this was 76, it really feels like distant history now) with the Mcarthy Era witchhunts as they affected the enterainment world.Martin Ritt, himself having been blacklisted, assembled a strong cast who are up to the challenge, including Zero Mostel -also blacklisted-, in his most serious and touching (and almost last) screen appearance. However, this film feels weak and except for the last scene is not dramatic or high stakes enough to care. Woody Allen is a 'front' for some outcast Communist sympathizing writers. Until the last very effective scene, the movie wastes potentially dramatic betrayals by having eveyone be too nice and noble. The film would have been much more interesting, if, as the situation seems to lead to, someone would betray someone. Nobody does and the film doesn't live up to its promise. In any case, it's worth a rental if you can find it and are interested in the subject matter. George Clooney's Good Night and Good Luck is a much more effective and dramatic movie about the same historical event, but if you want a bigger viewing list., give this one a look.
Josh Morris
Super Reviewer
The Front Quotes
| | |
| --- | --- |
| Florence Barrett: | I was very well bred--the kind of family where the biggest sin was to raise your voice. |
| Howard Prince: | In my family the biggest sin was to pay retail. |
| | |
| --- | --- |
| Howard Prince: | And, furthermore, you can all go fuck yourselves. |