Front Page Woman
(1935)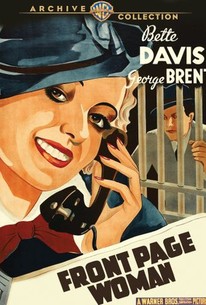 Movie Info
Ellen Garfield (Bette Davis) is a neophyte reporter with ambitions big enough to take on assignments usually reserved for men, including the execution of a woman convicted of murder (which causes her to faint). Curt Devlin (George Brent) is a newshawk for a rival paper who likes Ellen a lot, but not her career plans. The two keep crossing paths and tripping each other up, mostly by accident, with Curt's photographer pal Toots O'Grady (Roscoe Karns) keeping score. Curt would like to romance Ellen, but wants her to give up on being a reporter; and she won't give up until she proves she's as good a reporter as any man, including Curt. And when a routine fire that they're both covering turns into a case of disappearance and murder involving a well-known Broadway producer, they end up going head-to-head on both the manhunt for the presumed killer and the trial that follows.
Critic Reviews for Front Page Woman
Audience Reviews for Front Page Woman
Routine programmer notable only for Bette's presence. She brittle and driven making what she can out of a thin character but with material like this it's easy to why she rebelled against Warners for better films.
Front Page Woman Quotes
There are no approved quotes yet for this movie.