Frozen River
(2008)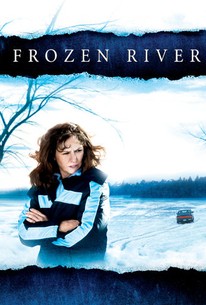 Movie Info
Frozen River is the story of Ray Eddy, an upstate New York trailer mom who is lured into the world of illegal immigrant smuggling when she meets a Mohawk girl who lives on a reservation that straddles the U.S.-Canadian border. Broke after her husband takes off with the down payment for their new doublewide, Ray reluctantly teams up with Lila, a smuggler, and the two begin making runs across the frozen St. Lawrence River carrying illegal Chinese and Pakistani immigrants in the trunk of Ray's Dodge Spirit.
News & Interviews for Frozen River
Critic Reviews for Frozen River
Audience Reviews for Frozen River
I can't say exactly why this film so affected me, but it did. It was almost too real, viciously shot, plain and "boring" and heart-breaking enough that it could've been a Canadian film. Melissa Leo is believable, and from the opening shot - her smoking and crying in the car with the door hanging open, snow all around - you're hooked. Made me think of some of the bleaker films I've ever seen, and this one's just not uplifting in any way. A great, realistic story about the lengths people will go to for their children and their way of life, scrappy and well worth watching; strong, minimalist film-making that proves the budget isn't everything.
Daniel Perry
Super Reviewer
A pointless film to say the least, More proof to the fact that being realistic is not enough for a movie to be good, The film depicts poverty & struggle without exploration or insight , It only tries to impress with its shallow bitterness & harshness and Fails
Morose tale of monstrous behavior among the desperate is ably but not expertly assembled. Leo's fearless performance is what stops Frozen from not melting into mediocrity.
Tony Gandía
Super Reviewer