The Fugitive Kind
(1960)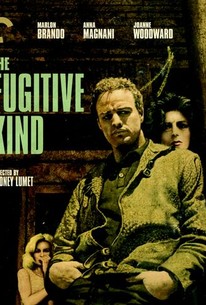 Movie Info
Fugitive Kind began life as Battle of Angels, a never-produced 1939 play by a young Tennessee Williams. Nearly 20 years later, Williams refined this rough-hewn theatrical effort into Orpheus Descending, which enjoyed a respectable Broadway run. The renamed film version stars Marlon Brando as Valentine "Snakeskin" Xavier, a trouble-prone drifter who wanders into a deliciously Williamsesque Mississippi town. Here he becomes involved in the problems of alcoholic Carole Cutrere (Joanne Woodward) and unhappily married Lady Torrence (Anna Magnani) and also runs afoul of Torrence's vicious husband (Victor Jory). Sexual symbolism abounds in this tempestuous drama, which offers Brando at his most inscrutable and Magnani at her earthiest. Maureen Stapleton, in real life one of Brando's best friends and severest critics, plays an avant-garde artist. ~ Hal Erickson, Rovi
News & Interviews for The Fugitive Kind
Critic Reviews for The Fugitive Kind
Audience Reviews for The Fugitive Kind
Maybe if Kazan had directed this movie would have been more exciting, I don't know what the problem was, but this movie is incredibly slow and boring. The story seemed good, but I couldn't follow it very well.
Everything that you would expect from a Tennessee Williams play / film; unrequited love, compassion, lust, intolerance, hate, hope, brutality. And of course, lots and lots of over the top female characters ranging from "strong and determined" to "weak and crazy". For me the men (even in the major roles) are ultimatley "a means to an end" for the most part. There to serve as the catalyst for the inevitable breakdown of one (or all) of the female charaters. If it were anyone else this formula might become tedious, but WIlliams characters are always so interesting and complex and the worlds in which they reside so entrancing - that I'm always sucked right in and (depending on the actress/actor) completely engrossed. While this is far from Brando's best work, he gives us a great "Brando" for the most part. Which suites the role. Funny how much he goes on and on about how much he loves his guitar, but never really plays the damned thing! Joanne Woodward is fun to watch as the counties favorite crazy "Carol Cutrere", but I couldn't help but feel like she was channeling Carroll Baker from "Baby Doll". Which had come out a few years earlier. For me the star of this film is Anna Magnani, who to spite being a bit over the top at times (Fellini-esque?) delivers a powerful and touching performance. Just keep in mind that this (as with most of his work) was originally written for the stage so there is always a flair for the melodramatic. I think it would be hard (impossible?) to convert them to more traditional (toned down) "film characters", without loosing the charm that comes from the mind / pen of Tennessee Williams.
½
"Wild things leave their skin behind...so the fugitive kind can follow their kind." This film seethes with a dark, sultry, gothic atmosphere: Tennessee Williams brand of Southern discomfort. Life in this small town is painfully slow, quietly desperate and overwhelmingly restrictive, barely masking its inherent corruptness and grotesque stagnation. Marlon Brando oozes sexuality and sensitivity, playing the outsider ~ the bad boy with the good heart. He is an absolute and primal magnetic force; you just can't take your eyes off of him! Pleasantly surprising, his co-stars, Woodward and Magnani, offer unforgettably powerful, dramatic interpretations, uncompromised by Brando's charisma. The love story is never believable, but the shared camera time creates the illusion of intimacy, compensating for the lack of chemistry. Williams' microcosm is all too familiar, the direction is theatrical, but the performances are mesmerizing and the social indictment remains damning.
Stefanie C
Super Reviewer
The Fugitive Kind Quotes
There are no approved quotes yet for this movie.