Full Frontal
(2002)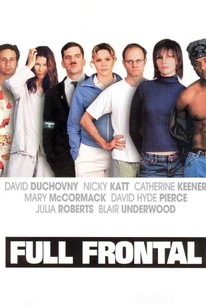 Movie Info
Described as a modern-day Hollywood version of Day for Night, director Steven Soderbergh's first digital video production was also shot employing a modified version of the frills-free Dogma 95 rules set forth by Lars Von Trier and Thomas Vinterberg, allowing a relatively small budget of about two million dollars. Julia Roberts and Blair Underwood star, respectively, as Francesca and Calvin, actors performing in a motion picture directed by David Fincher and co-starring Brad Pitt (who play themselves). Woven in and out of the film production story thread are several other subplots including one about a lovelorn woman, Linda (Mary McCormack); the self-absorbed Gus (David Duchovny); and a husband, Carl (David Hyde Pierce), whose wife (Catherine Keener) is falling for Calvin. Described initially as a follow-up to Soderbergh's independent breakout hit, sex, lies and videotape, Full Frontal isn't a sequel in the strictest sense of the word and is only thematically related to the earlier film in its exploration of voyeurism and sexuality. The film also stars Brad Rowe, Enrico Colantoni, and Nicky Katt.
News & Interviews for Full Frontal
Critic Reviews for Full Frontal
Audience Reviews for Full Frontal
When you have been working for many years, and are one of the most versatile and prolific filmmakers out there, it only seems inevitable that eventually you'll produce a work that's bad, if not almost totally awful. That is the case here with this mess from Steven Soderbergh. Shot primarily on digital, this is a loose ensemble piece executed in a manner loosely based on the Dogma 95 movement, as well as the French New Wave to an extent. We get multiple threads following a bunch of people all invited to the party of a mutual friend. We weave in and out of these various subplots, but the one that seems to linger the most involves an actor and actress working on a movie directed by David Fincher and starring Brad Pitt (who both appear as themselves). Throughout the movie we are treated to this film within a film as well. I really wanted to like this, not just because it's Soderbergh, but because of its reputation. I'm sorry to say that I'm going with the crowd on this one. Sometimes I like loose, breezy plot-light films ,but here it's just dull, meandering, and pretentious. It also really looks like crap, being shot on digital and all, and it's more frustrating since the film within the film is shot to look like a regular movie, making it distracting. I'm also okay with movies that blur the line between reality and not, but here it's just an incoherent mess. The actors make it worth it, hence why my grade isn't lower, and I do like the playful jabs at Fincher's obsessive compulsion to shoot take after take, but bottom line, I'm just gonna chalk this one up to being a nice idea that just fell apart. Some of this is interesting, and if it were shorter, it'd be a little easier to swallow, but in the end, I'm just gonna thank everyone from trying, and hope they learn their lesson.
Chris Weber
Super Reviewer
½
Comes across as trying a little too hard to be edgy. I did however find myself drawn to some characters and situations in particular. I especially liked the scenes with David Hyde Pierce and the veterinarian.
Laura Cameron
Super Reviewer
I'll never understand the universal hate of Full Frontal; it's a good movie.
Full Frontal Quotes
There are no approved quotes yet for this movie.