Fun & Fancy Free
(1947)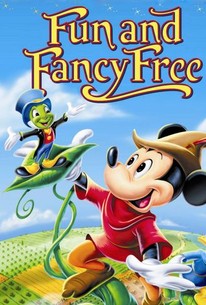 Movie Info
A blend of live-action and animation, Fun and Fancy Free is comprised of two distinct tales linked by additional footage featuring Jiminy Cricket. Disney had been planning to use each story for separate feature films but the involvement of the United States in WWII disrupted his plans and the stories were shelved until after the war. The first is a musical story based on a children's story by Sinclair Lewis and is narrated by Dinah Shore, who also sings. It is the tale of a sad little circus bear named Bongo who is adored when performing but ignored after the show. Tired of travelling and being mistreated, he escapes into the forest where he discovers that life in the wilderness is not as free and easy as he thought. Despite the obstacles awaiting him, Bongo manages to find the thing he most longed for -- true love. By contemporary standards, the story is almost 'unbearably' sweet, but it should be remembered that such candy-coated fluff as "Bongo" was the remedy war-weary audiences needed to lift their spirits. The second tale is more zesty thanks to the peppery repartee between ventriloquist Edgar Bergen and his two dummies Charlie McCarthy and Mortimer Snerd. Together the three tell would-be Disney child star Luana Patton, a story based on "Jack and the Beanstalk" featuring Mickey Mouse, Donald Duck and Goofy, who climb a magic beanstalk and try to retrieve a stolen singing harp to restore wealth to their impoverished kingdom. In 1997, to commemorate the film's 50th anniversary, it was released on video tape in a restored version (the executive producers in charge of restoration were Phil Savenkic and Harry Arends) that has brought the colorful animated sequences back to their original depth and vibrance. This video version also contains a brief but informative documentary hosted by noted film historian Leonard Maltin and narrated by Corey Burton at the end that gives the fascinating history of the films. It also contains rare footage of the making of the films and a priceless segment in which Walt Disney performs as Mickey Mouse. "Mickey and the Beanstalk" was the last time Disney provided his voice.
Critic Reviews for Fun & Fancy Free
Audience Reviews for Fun & Fancy Free
½
An uplifting and sweet animated package film that combines music and narrative in ways superior to Make Mine Music, Disney's previous effort, and has two very nice stories - too long for shorts and too short for features - that are worth our time.
Carlos Magalhães
Super Reviewer
½
When I reviewed The Adventures of Ichabod & Mr. Toad, I spoke about the level of compromise which is present in the Disney package films of the mid- and late-1940s. They are, in essence, formed from the wreckage of larger productions, some of which were abandoned with the onset of WWII, some of which were started after the war but soon ran into problems. It is therefore incredibly tempting to view these films very negatively, to look upon them as Walt Disney's desperate attempt to keep the crowd's attention until something more ambitious could be produced. But while the package films are slight and heavily flawed, they all have a certain degree of charm and artistic value, even if they don't ultimately contribute a great deal to the Disney canon. Fun and Fancy Free is one of the better ones, with both of its stories being better shaped and told than either Ichabod or Mr. Toad¸ as well as being more in line with the Disney style. Both parts still have their problems, but while its successor could be tolerated, this one can actually be enjoyed. One of the reasons why Ichabod & Mr. Toad came unstuck was because it departed so far from the source material - or more to the point, it didn't tie these departures into the overall Disney style. Not only is the Disney version of The Wind in the Willows so different that it shouldn't bear that name, but aside from the musical slapstick scenes it's not immediately recognisable as a Disney film. As for Ichabod, it's largely faithful to Washington Irving's story, but the animation and storytelling style is brusque and cheeky, in stark contrast to Disney's reputation as the epitome of sweetness and light. In the case of Fun and Fancy Free, we have an original story (albeit one strongly rooted in the company's back catalogue) and a retelling of the classic fairy tale, Jack and the Beanstalk. There are still departures from the source material in the latter's case, especially around the nature of the giant. But these departures are in line with what we would recognise as classic Disney; while we might object to them as fans of the fairy tale, they do not feel out of character for a Disney film. Hence we can enjoy the film as a piece of light-hearted escapism without unusual animation styles stopping by to spoil the mood. The first segment, entitled Bongo, was originally intended as a prequel to Dumbo. The two films have obvious similarities, with both characters being introduced on a speeding train, both being the star attractions of a circus, and both being unhappy with their lot in life. The opening to this segment is like watching Dumbo on a sugar high - we're introduced to Bongo with the fast forward button being held down, watching him perform a series of impressive tricks in a rapid montage. Whereas we grew to like Dumbo slowly, out of sympathy or pity, we're meant to be impressed by Bongo, and there's no second chance if we get left behind. Once Bongo leaves the train and the action moves to the forest, the film moves swiftly into Bambi territory, with the theme of animals falling awkwardly in love and the complicated rituals of romance. The shift is made unnecessarily jarring by the sequence of Bongo's first night in the forest, running from all manner of flies, birds and creepy-crawlies. We go from the bright, Silly Symphonies style of the opening five minutes, into the creepy forest scenes from Snow White and then out the other side. This scene doesn't add anything to the story beyond wrong-footing us; had it been a little creepier, it could well be called a Big Lipped Alligator Moment. The romantic section of Bongo is what you would get if you took the scenes in Bambi of Thumper and co. falling in love, applied them to the central character, and then coated it with so much schmaltz that it resembles the Care Bears. If you had any difficulty handling Bambi's sentimentality, you will be digging your fingernails into the palms of your hands during this part of the film. Despite a half-decent song from Dinah Shore, it goes on far too long, and there is so much pink among the fluffy clouds that it will start to hurt your eyes. Fortunately, things pick up with the showdown between Bongo and the rival bear Lumpjaw. This section finds Disney borrowing quite liberally from Popeye, with Lumpjaw being cast very much in the Bluto mould. The fight scene is well-paced and surprisingly action-packed, with lots of punches being thrown and whole sections of a forest being destroyed. This section plays to Disney's strength in musical slapstick, with each part of the fight containing witty payoffs and the end result seeming justified. Certainly it makes up for the other big musical number, the awkwardly-titled and all-round uncomfortable 'Say It With A Slap'. It's interesting to note at this point about how the different stories are framed. Both stories feature wraparounds from Pinocchio's Jiminy Cricket, voiced as per usual by Cliff Edwards. In the first story, he's very much involved, getting a good few minutes of screen time and a song before Shore takes over narration. But in the second section, which is framed with live-action, he's in the background, avoiding the gaze and feet of ventriloquist Edgar Bergen. This live-action wraparound is creaky and shambolic, being poorly lit and directed with very little energy. Bergen's charming and occasionally funny, but his self-acknowledged shortcomings as a ventriloquist are in plain sight; if there was a drinking game for this film, you could take a shot every time his lips move. While both the dummies get a few juicy comebacks, you will spend a lot of your time pondering their resemblance to characters from The Goon Show. Although they precede their counterparts by at least a decade, there is precious little separating Mortimer Snerd from Eccles, or Charlie from Bluebottle. While the wraparound is found wanting, the second animated segment is a lot stronger. Mickey and the Beanstalk is a really fun retelling of the classic fairy tale, taking all the plot points of the story we know and adding Disney magic in just the right places. The section is visually more accomplished, with the destruction of Happy Valley and the theft of the singing harp blending light and dark shades quite effectively. The growth of the beanstalk may be less impressive than the birth of Pinocchio, but there's a number of good physical jokes which play on the characters being really heavy sleepers. The comic interplay between Mickey, Donald and Goofy is really well-judged. Donald is very funny, particularly when he breaks down early in the piece and tries to devoir his plate out of a desperate desire for food. His kinetic state is balanced out by Goofy's relaxed, droopy physicality, and Mickey serves as the rounded ringleader with the best intentions and his heads in the clouds. The film is notable for being the last time that Walt Disney would personally voice Mickey; while he did contribute voice talent for The Mickey Mouse Club on TV, this does represent the passing of a torch, through a story that Disney himself loved. The only unsettling change to this section of the film is the character of the giant. While in the original stories he is characterised as being mean, cold and having a foul temper, here he is more goofy and childlike. It doesn't ring true when we first meet him, but the more time we spend with him the more intimidating he becomes, at least up to a point. Having him be able to change shape and size does make him more of a wizard than a giant, but he's still a believable and capable threat to our main characters, even though he doesn't quite get the ending he deserves. Fun and Fancy Free does exactly what it sets out to do, providing a diverting and enjoyable 70 minutes filled with recognisable characters to buy Disney some much-needed time. It's hardly Disney's most ambitious or audacious effort, and it does have its fair share of problems, especially when it comes to Bongo's tone. But it's enjoyable and funny, with enough visual style to paper over the cracks in the storytelling. As an introduction to Disney it's far from ideal, but for passing the time on a rainy Sunday, it'll do just fine.
Daniel Mumby
Super Reviewer
This was one of my favorites as a child, Bongo is just one of those things that has stuck in my head all these years.
Fun & Fancy Free Quotes
There are no approved quotes yet for this movie.