Fun With Dick and Jane
(2005)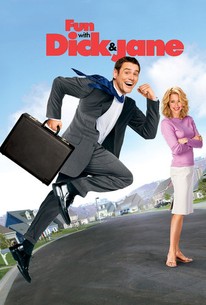 Fun With Dick and Jane Videos
Fun With Dick and Jane Photos
Movie Info
A not-so-ordinary family finds a new way of paying the bills in this comedy. Dick Harper (Jim Carrey) and his wife, Jane (Téa Leoni), would seem to have it made -- Dick has a high-paying job, they live in an expensive house in the suburbs, they have two luxury cars in the driveway, and a housekeeper, Blanca (Gloria Garayua), to help look after their son, Billy. But Dick and Jane's fairy-tale life crashes head-on into reality when the firm Dick works for turns out to have been using unscrupulous accounting methods to disguise the fact they've been losing money hand over fist, and Dick has been made the fall guy for some of their dirty dealings. Suddenly flat broke, Dick and Jane must find a new way to support their lavish lifestyle, and in time they discover just the thing -- crime. A remake of Ted Kotcheff's 1977 hit (which helped re-launch Jane Fonda's screen career), Fun With Dick and Jane also stars Alec Baldwin, John Michael Higgins, and Angie Harmon.
News & Interviews for Fun With Dick and Jane
Critic Reviews for Fun With Dick and Jane
Audience Reviews for Fun With Dick and Jane
½
Compared to most of Carrey's comedies, at least this one tries to do something different and include a certain amount of thoughtfulness, but it is very strangely paced and the laughs simply aren't frequent enough.
Sam Barnett
Super Reviewer
I didnt enjoy this movie that much, it was more annoying then actually funny. Not a bad cast but the storyline and Plot is just silly. I dont think its even a movie worth wasting your time watching!
Film Crazy
Super Reviewer
½
My least favourite Jim Carrey movie. Altough it amused me enough to say it was worth my while, there was something really off about its endeavours to evoke laughter. Carrey does the best he can, so he can't be blamed for it. No, the problem is traced to the lackluster script. There are a few scenes where I came close to a genuine chuckle, but on the whole it's so flat that I felt indifferent to watching it. The only reason I continued, was in the naive hope that it would get better somehow. Sadly though, that never happened, which once again affirms my theory that all the good comedy writers died off at the turn of the millenium (look at what befalled The Simpsons for example, and you'll know that I'm right). Because while we in the 90's got great Carrey flicks like The Mask and Dumb and Dumber, we now have to settle for mediocracy like this and Yes Man. A shame to be sure, because with talent like Jim's, he deserves a lot better.
Fun With Dick and Jane Quotes
| | |
| --- | --- |
| Dick Harper: | [after being punched in the mouth, sound like he is trying to have in American accent] No, I swear, I am an American citizen. [...] No, call my wife... It's ringing. |
| Billy Harper: | [answers the phone] Hola? |
| | |
| --- | --- |
| Jack McCallister: | Dick Harper...Dick Harper...Dick Harper playing the harp, Harpo Marx playing the Jews harp...D.H....D.H.! HAH, you're my designated hitter! |