Funny Lady
(1975)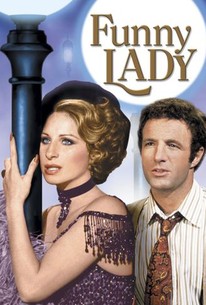 Movie Info
Barbra Streisand's 1975 follow-up to her star-making 1968 vehicle Funny Girl is a lot more worthwhile than most movie sequels. Funny Girl was a fanciful retelling of the first forty years or so in the life of fabled comedienne Fanny Brice (1891-1951); Funny Lady picks up where the first film leaves off, following Fanny into the 1940s. Far more sophisticated and imperious than she'd been in Funny Girl, Streisand's magnetic performance compensates for her character's decreased charm. Fanny's first husband, gambler Nick Arnstein (Omar Sharif), makes a few token appearances, while the lion's share of the film's romantic angle is dominated by Fanny's second hubby, impresario Billy Rose (James Caan). The best sequence involves a disastrous out-of-town tryout for one of Fanny's stage vehicles, replete with collapsing sets and a runaway bull. Most of the songs included herein are old standards, with the notable exceptions of Kander and Ebb's "How Lucky Can You Get?" and "I Like Him/I Like Her". The film was produced by Ray Stark, the real life son-in-law of Fanny Brice.
Critic Reviews for Funny Lady
Audience Reviews for Funny Lady
A much deserved sequel to the first movie :) Barbara again amazes us with her amazing acting & singing skills :) This is another amazing marvel in film history :) James Caan is also incredibly exceptional in this movie as Fanny's love interest :)
Cassie Hill
Super Reviewer
½
Okay sequel to the wonderful Funny Girl is missing several key ingredients that hold it back from the level of the first film. The most important would seem to be director William Wyler, who kept the first film moving even at an extended length this one plods here and there. The supporting characters here aren't as enjoyable or fleshed out as in the first, where is Kay Medford's wonderful mother? Most of the music is excellent, the problem with most is the staging. We only get snippets of many of them like "More Than You Know" and "Am I Blue" and several of the ones we do get full versions of are muddled, the worst is "It's Gonna Be a Great Day". Barbra gives a great rendition of the song but it's drowned mostly in long shots and the sound of the shuffling feet of the surrounding dancers. "Let's Hear It For Me" is a blantant ripoff of "Don't Rain on My Parade". There is a haunting version of "If I Love Again" though. Caan is alright as Billy Rose but he and Babs share little chemistry and he mostly shouts his part hardly making the most romantic leading man. As for Streisand, who made this under duress from a contract obligation, she is of course loaded with talent but seems brittle and haughty, two things Fanny Brice never was. The production design is excellent and some of the costumes are eye popping, the feathered dress in itself is amazing, but they are dressing up an average affair. Not a waste of time just don't go into it expecting the high quality of the first film.
Funny Lady Quotes
There are no approved quotes yet for this movie.