Funny People
(2009)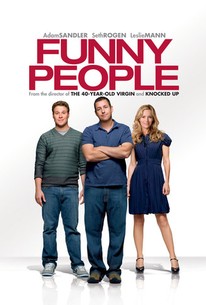 TOMATOMETER
AUDIENCE SCORE
Critic Consensus: Funny People features the requisite humor, as well as considerable emotional depth, resulting in Judd Apatow's most mature film to date.
Movie Info
George Simmons is a famous stand-up comedian, who learns that he has a terminal illness and less than a year to live. When, he meets Ira, a struggling comedian at a comedy club where both the comedians are performing, George hires Ira to be his personal assistant and opening act at his performances. The two forge a close friendship as George helps Ira with his career and Ira helps George find closure in his legacy. However, when George learns that his disease has gone into remission and an ex-girlfriend re-enters his life, he's inspired to reevaluate what is important to him and what truly gives meaning to his life.
News & Interviews for Funny People
Critic Reviews for Funny People
Audience Reviews for Funny People
½
This movie shows a more restrained and, dare I say, mature Judd Apatow. That's not a bad thing actually, but I think he needs to work at it some more. Because as good as this movie is, and as much as I liked it, it's got some flaws. For one thing, it's a tad too long and parts of it really, really drag. I didn't mind that this movie wasn't really a balls out comedy, but I think it's gonna alienate the audiences who haven't seen it yet. Parts of it are pretty funny, but most of the humor is quite dark, and rather awkward and uncomfortable. Maybe this film is more realistic as a result. Not that real life isn't funny, but seeing as how this movie is more dramatic, it carries that weight of reality that most people try to get rid of through comedy. I enjoyed this aspect for the most part. Having enjoyed Sandler's previous dramatic performances, I found a lot to like here. I'm just afraid that others make get turned off by the fact that much of this movie carries a lot of pain with it. The performances from the others are also good, be they the Apatow regulars, or the others such as Jason Schwartzman and Eric Bana. So yeah, I liked this, and think it is worth seeing, but don't expect it to be like Apatow's previous works, otherwise you'll probably be really disappointed, unless you don't care for his other films, which means you may like it, unless of course you don't like comedy done in the style of The Office.
Chris Weber
Super Reviewer
½
This dark comedy (dramedy?) contains my favorite acting roles for both Sandler and Rogen. Its a story of struggle and regret, and oh by the way, stars comedians. I like this side of Sandler and Judd Apatow. Its more emotional than you expect from Apatow, and definitely not an Adam Sandler comedy.This is a side of Sandler you don't often see;I compare it to Jerry Lewis' role in King of Comedy. It isn't "hilarious" or "uproariously funny" like some may expect. Like Jim Carrey's earlier The Cable Guy, it may have been misrepresented. Oddly, both films star Leslie Mann. Funny People is flawed but a good drama considering the cast. This is an excellent Apatow film, closer to Freaks and Geeks than Knocked Up and much of his later work.
Clintus Maximus
Super Reviewer
½
As always for all Judd Apatow movies, the screenplay is hilariously funny and witty. Many will say that this is Apatow's darker movie and is low on the amount of laughs, but within it is a non-Hollywood approach to portray and thoughtful and important message. I enjoyed this movie and some jokes hit the spot. I recommend watching this movie!
Funny People Quotes
| | |
| --- | --- |
| Clarke: | underneath anger is hurt but underneath hurt is love. |
| Clarke: | Underneath anger is hurt,. but underneath hurt is love. |
| | |
| --- | --- |
| George Simmons: | I don't really have any friends. You're my best friend, and I don't even like you! |
| | |
| --- | --- |
| George Simmons: | So I'm guessing your friend is the fat version of you. |
| | |
| --- | --- |
| George Simmons: | Are you mad that you died at the end of Die Hard? |